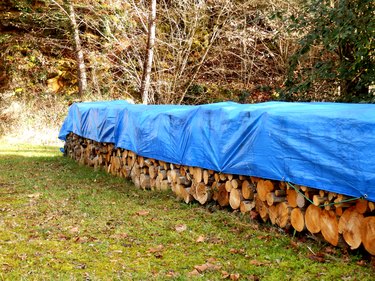 Gluing tarps is one way to turn two smaller tarps into a larger one or to patch a hole in one otherwise good tarp with a piece salvaged from another damaged tarp. Not all tarps are created equally, however. While sturdy vinyl tarps may be glued with vinyl or tarp adhesives, inexpensive tarps are best adhered with hot glue sticks that work on polyethylene.
Determining Tarp Material
While it's fairly easy to tell your tarp is canvas just by looking at it or feeling it, it's harder to differentiate one plasticlike tarp from another. The cheapest and most lightweight tarps are usually made of polyethylene; these crinkle a lot when folding or manipulating them. Heavier-duty tarps are usually made of polyvinyl chloride, or PVC; these are sometimes called vinyl tarps. Clear tarps may be either polyethylene or vinyl, with the vinyl ones being far more durable.
Since many custom types of tarps exist for specific purposes, some of them naturally don't fit the general material guidelines. Hay tarps, often silver, are sometimes made of a high-density polyethylene. These are more durable than the bargain blue polyethylene tarps on the market, but they still require an adhesive that works on polyethylene.
Glue vinyl tarps using vinyl cement, a special form of contact cement, applied with a brush or a roller for large areas. Work in a well-ventilated area, ideally outdoors. As with other adhesives, vinyl cement works best when both surfaces are clean.
Use rubbing alcohol on paper towels or a rag to clean the tarp areas requiring adhesive and then wait for the tarps to dry.
Brush a coating of the vinyl cement on both areas being glued — for instance, the left edge of one tarp and the back side of the other tarp's right edge, folded over to make adhesive application easier.
Wait up to five minutes or until the cement feels tacky before pressing the lines of cement together.
Allow 30 minutes or as directed on the cement container before moving the tarps. Once the glue sets, it resists oils, chemicals, and water.
Bonding Polyethylene Tarps
Vinyl cement doesn't work well on thin polyethylene tarps due to the low surface energy of the tarp. Hot glue sticks designed for low-surface-energy plastics do, however. The 3M Hot Melt Adhesive 3748 product line is one type of hot glue stick that works on polyethylene tarps. The company also makes a double-sided adhesive transfer tape that adheres polyethylene to polyethylene.
General all-purpose glues don't adhere well to polyethylene, so read the package label or the product information page to ensure that what you're purchasing works on polyethylene, sometimes listed as PE. Some companies, such as Permabond, make specialty adhesives designed specifically for these more difficult-to-adhere-to plastics. Depending on the formula, the glue may require using a special primer-style product on the tarp first. Some adhesives that work on PE are like two-part epoxies and may require mixing; some come in a dual syringe-style dispenser, so no mixing is necessary.