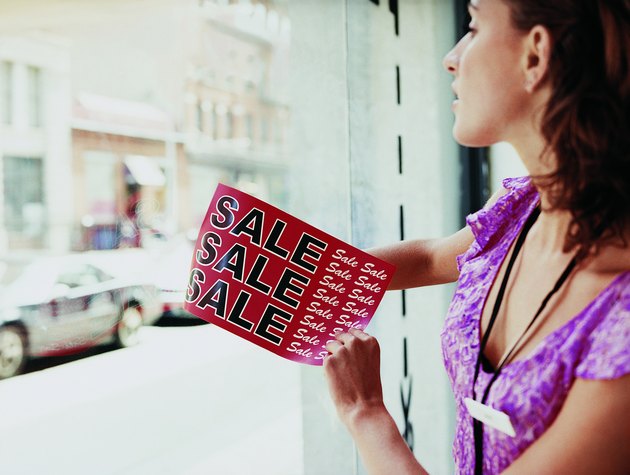 Window decals are popular decorations on vehicles, but they also work well in your home. Whether you purchase holiday-inspired decals for special occasions or everyday decals to match your home decor the rest of the year, you may find yourself needing to remove the decals from time to time. Remove and reuse your window decals carefully to prolong the life of the decals and preserve the look of your window glass.
Removal
Most window decals simply cling to the window with static electricity. To remove these decals, use a fingernail to peel off a corner of the decal and then pull gently to remove the rest of it. If you plan to reuse your decals, peel slowly and cautiously to avoid tearing the decal in the removal process. If your decals are made with any type of adhesive product, you may need to use a razor blade or another small tool such as a plastic scraper to remove the decal from the window. Test a small area first to be sure the tool you use will not damage the window itself.
Storage
If you plan to reuse your decals later, store them somewhere they will not get dirty. If the decals gather dust or grime they will not adhere to your windows a second time. Keep the original sheet the decals were on in the packaging for the best storage solution; simply stick the decal back onto the sheet and then store the sheet in a folder, file or drawer in your home. If you no longer have the sheet, stick the decals onto a piece of plastic such as the inside lid of a storage container or the surface of a plastic clip board.
Window Cleaning
After you remove a decal, you may find adhesive residue or dust on your window. Use a degreasing agent to remove any adhesive from the window, carefully following the instructions on the packaging to prevent damage or inhalation danger. If there is no adhesive residue, simply clean the window with your normal cleansing products and tools.
Reuse
When you are ready to reapply the decal, clean off the window and allow the surface to dry completely, then position and place the decal on the window. Smooth out the surface of the decal with your fingers to remove air bubbles. Most decals only work a few times on a window before they lose their adhesive properties, so plan to replace older decals if you have already removed and reused them a few times in the past.
---
Jessica Cook has been writing since high school when she wrote for TeenGrrl.com and GirlZone.com. During college she wrote for her university's e-zine, department newsletter and an education journal. She holds a Bachelor of Arts in English from Ohio Northern University, a Master of Arts in Teaching from Grand Canyon University and an Educational Specialist's degree in curriculum and instruction from Liberty University.