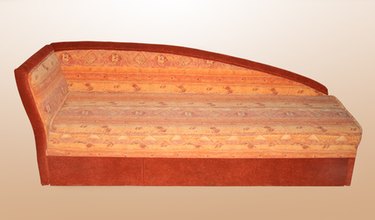 Cedar furniture, commonly known by its rich, rust color but also available in white varieties, is a popular wood used for outdoor furniture. In its natural state, cedar wood is durable and resistant to insects. The wood is also aesthetically pleasing and doesn't splinter easily. Cedar furniture can last for years if the bare wood in its natural state is sealed with a coating agent, like a resin stain. Stains and clear topcoat sealants will protect cedar wood from dampness and loss of color, and help add shine. Because of its durability, cedar wood furniture that is sealed can save people money in the long run, eliminating the need to buy new furniture every few years.
Step 1
Sand cedar wood furniture to ready it for sealant. Sanding works best on chipped parts of cedar, or old cedar wood that must be restored before applying a sealant. Don't over-sand the wood. Cedar wood is soft. An electric sander may take off too much of the surface. Sand the top lightly, applying just enough pressure to even out any imperfections.
Step 2
Apply a clear top-coat sealant to the cedar wood furniture with a paintbrush. Make sure the wood is clean. Apply cedar wood stain, instead of a top-coat sealant, for a non-shiny look. Use a tinted stain for added richness or a darker color. Use stains that contain water repellent and mildew inhibitors. Use a penetrating stain to moisturize cedar wood furniture that has knots or deep surface textures. A penetrating stain will moisturize the wood from within, and eliminate peeling and blistering that may also inhibit a topical sealant from working properly.
Step 3
Go over the surface with a clean paintbrush and cedar wood oil. Wood oil is best used on cedar in its natural state. The wood oil will add to the health of cedar wood and seal the top layer to protect it. Cedar wood oil is especially good for outdoor cedar furniture. Use only waterproof oil for outdoor furniture. Generously paint on the oil, making sure to saturate the wood. Wipe excess oil into the grain in circular motions with a clean rag.
Step 4
Paint cedar furniture with outdoor wood furniture paint to seal it. Choose a color paint for white cedar wood. Do not strip old paint off delicate cedar wood furniture with a chemical agent. The wood is porous and soft, and the chemicals may weaken the wood. Use 220 or a lighter grit sandpaper, and gently sand away the old layer of paint.
Step 5
Remove wood dust with a clean paintbrush, and repaint in the color of your choice.