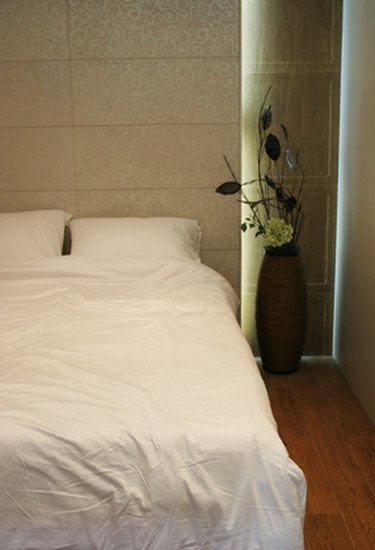 For every homemaker wrestling with deep-pocket sheets and the excessive covering they provide for a conventional mattress, another faces throwing out good conventional fitted sheets that fail to stretch over a new thicker mattress. The simple chore of bedmaking has become a fount of exasperation. To weather the fail-to-fit storm, two techniques will let an economy-minded homemaker get the remaining use from convential sheets after purchasing a thicker mattress. Unfortunately, just altering the corners produces poor results; to make the corners fit, you need to make some simple alterations to the whole sheet.
Altering the Middle of Your Fitted Sheet
Step 1
Measure the width and depth of your mattress. Add the width measurement to 2x the depth. Measure the width of your fitted sheet and note how much more fabric you will need. For example, mattress width+2x the depth=63+(14x2)=91 inches, and your sheet measures 83 inches wide.
Step 2
Purchase or locate a strip of matching or similar fabric 10 inches wide and as long as your sheet. Heloise, with whom this hint originated in Good Housekeeping, specifies matching fabric and suggests taking it from a flat sheet. Ten inches bridges the 8-inch gap between your old sheet and your new mattress, with two 1-inch seam allowances.
Step 3
Fold your fitted sheet lengthwise, and cut it along the fold line. Pin the new material between the cut sides and sew in place.
Extending the Borders of Your Sheet
Step 1
Cut the elastic off your fitted sheet. Lay the sheet flat on the mattress to measure how much fabric you will need to create a border on all four sides of the sheet. Save the elastic, so you know how much new elastic to buy.
Step 2
Purchase or locate fabric to make your border. The added fabric will tuck around bottom of the mattress, so it does not need to match the sheet.
Step 3
Pin and stitch the border fabric to all four sides of the sheet. Trim corners into curves for a better fit.
Step 4
Pin and stitch a 1/2-inch pocket-seam around the border, leaving the ends open to thread in new elastic.
Step 5
Thread the elastic through the pocket and close the seam.