If you've been considering enlarging your home with an extension, there could be a much simpler answer. Converting a garage into an extra bedroom can add much-needed space without too much upheaval. It should also be considerably cheaper than adding to your home's existing framework, though you'll need to check building codes and regulations in your local area. Once all the boxes have been ticked, however, this can be a great way of squeezing in more living space. It should help motivate you to finally get rid of all that junk, too. Do you really need those rusty old bikes?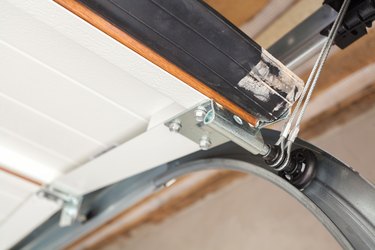 Checking the Regulations
Many authorities require smoke and carbon monoxide alarms to be fitted, and emergency egress must be provided in the form of a window that opens to the outside. If the garage houses a water heater or gas burning furnace, it may not be permitted to use the space as a bedroom.
Sketching the Space
Think about the area of the garage you want to use as a bedroom. You may wish to include some hallway space between the garage and whatever room it currently leads to. If your aim is to create a self-contained living space, work out if there's space for a bath or shower room. Plumbing might be available from an adjoining kitchen or bathroom.
Replacing the Door
As most building and conversion regulations will require an escape route and ventilation, the simplest solution could be fitting a large window and paneling in place of the existing garage door. The wall may need reinforcement once the door has been removed. This work will need a certified contractor. If there's already a window in the garage and it meets egress requirements, adding an interior block wall behind the existing door is another option.
Laying the Groundwork
Most garages have concrete floors that may already have been coated with a damp-proof membrane. If not, this can be added usually in the form of a paint-on DPM before adding flooring. Carpet or wooden flooring strewn with a plush rug will help cozy up the room.
Insulating the Room
Adding a layer of insulation underneath the flooring will help keep the room warm and save on heating costs. For the walls, get a few quotes from contractors before deciding whether to insulate them yourself. It may be cheaper than you think. The simplest DIY options include two-by-four stud wall framing with fiberglass batt insulation and rigid foam insulation covered with drywall to meet fire regulations.
Heating and Electrics
A bedroom will require lighting and electrical sockets. If your garage isn't already wired up to the mains, consult an electrician. It may be that an additional mains supply needs to be installed. Determine whether your home's present heating and cooling system can be vented into the bedroom area. Look for ways to run ductwork from a kitchen area or another bedroom through the ceiling or a closet area. If you can't vent heat and air, buy an electric radiator heater for the new bedroom.
Finishing Touches
Once you've insulated the space and cut all the red tape, it's time for the fun part – decorating your new bedroom. Smooth over any rough surfaces and use a primer before painting the walls, put up new shelving and install blinds over the windows. Most of all, you want it to be cozy. Cushions, luxurious rugs and soft textures will make you forget this was ever a place to store your car or, more likely, all that old junk you never really needed.