Things You'll Need
Two IKEA "LACK" Shelving Units (Width: 13 3/4", Depth: 15", Height: 74 3/4").

10 sizable L-Shaped Brackets.

3 25 inch pieces of 2X9 wood. (Shorten length for twin bed).

2 25 inch pieces of 2X5 wood. (Shorten length for twin bed).

#10X1" Metal Screws.

Screwdriver, power screwdriver or drill.

Hex key (Allen wrench).

Staple Gun.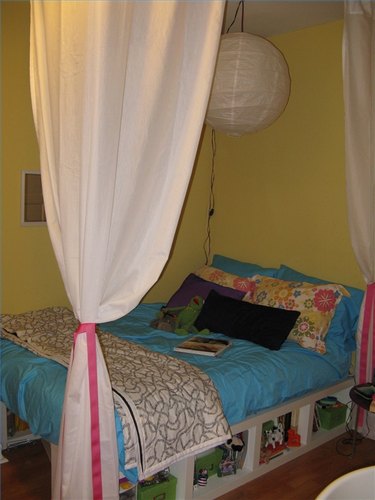 Follow these simple instructions to build your own full sized modern platform bed with storage using IKEA's LACK storage units, or another storage unit of your choice.
Step 1
Follow the IKEA assembly instructions to build two LACK shelving units. Place the units parallel to each other, on their sides, 25 inches apart.
Step 2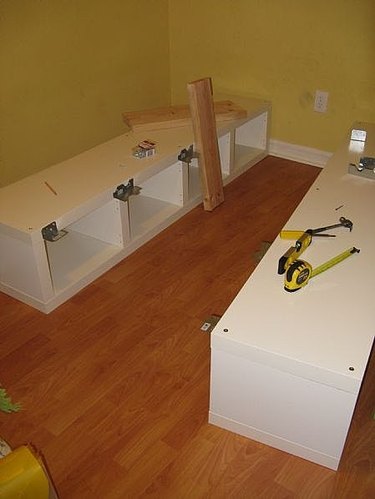 Securely screw the brackets into the shelving unit so that the wood planks will be flush with the top of the platform and even across the length of the bed.
Step 3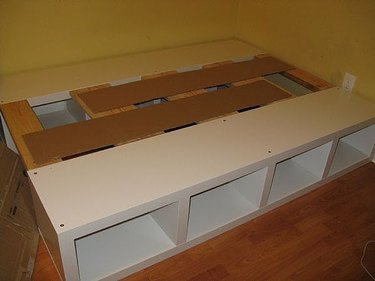 Place the wood support planks between the support brackets and connect to prevent any shift of the planks. If you are feeling resourceful, use part of your IKEA shelving unit boxes and secure to the wood using a staple gun.
Step 4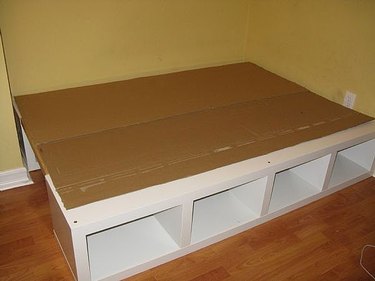 Cover the top to protect your mattress. Again, more of your IKEA box will do the trick.
Step 5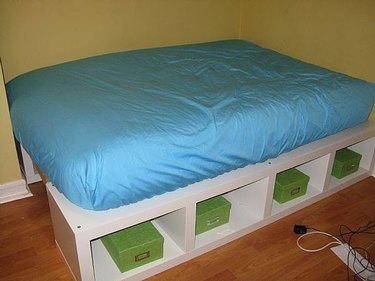 Place your mattress on top of your new platform bed and enjoy!
Tip
Assemble the bed where you would like the finished product to be located in your room. If you find another storage unit that better fits your needs, simply adjust the length of your wood planks during your planning process so that the combined width fits the measurements of your bed. If you do not have access to a saw, most major hardware stores will cut wood for you with little to no fee.
Warning
A power drill can save you a lot of time and arm power during the bracket installation. If you do not have power tools, be sure to wear gloves to prevent blisters from forming on your hands.