Things You'll Need
Plastic pots

Markers in various colors

Glue

Paint in various colors

Beads

Ribbon

Fabric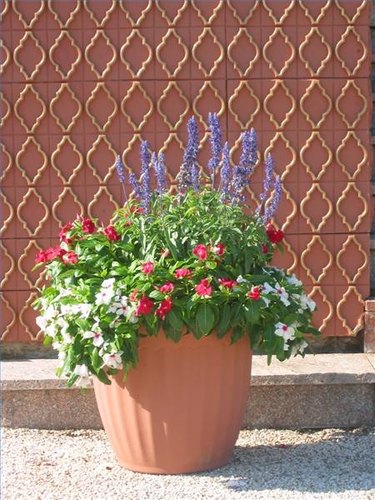 Plastic flower and herb pots are inexpensive but may also be boring to look at. You can add some colorful decor to your home or garden by decorating the plastic pots using a variety of arts and crafts items. With the help of a few markers or some bright paint, you can turn basic plastic pots into works of art. Decorating pots is an excellent way to get children excited about planting and gardening, and can make a fun summer project.
Step 1
Decorate your plastic flower pots with ribbons to add some country flair to your garden or patio. Choose a ribbon color that best suits your home, and tie it around the top of the pot and make a bow. You can also one around the middle of the pot.
Step 2
Paint a basic brown plastic pot to match your home or to express your personality. Using craft paints made specifically for plastic, create designs or patterns on the pot, or paint it one solid color. If you have children, let them each have their own flower to grow, and allow them to customize their own pots.
Step 3
Use a hardy fabric, such as heavy cotton or burlap to wrap around the plastic pot. Cut out the appropriate amount of fabric, cover the pot with it, and then tie it at the top with a ribbon or a piece of string. This will work best on pots that are indoors or in a screen patio.
Step 4
Glue beads or rhinestones to the pot to add some glamor. You can choose to cover the entire pot, or just make a few designs, such as hearts and stars. This glamorized flower pot will make a great addition to a girl's bedroom.
Step 5
Use a waterproof marker to write inspiring sayings, words and phrases on your plastic pots. For great gift ideas, customize the pots with your friends' and family members' names. You can also write "happy birthday" or "happy anniversary," along with the date, to commemorate a special day.