Gas starters make it easy to start a fire in a wood-burning fireplace. Consisting of a tube mounted under the grate, a gas starter uses natural gas to create flames through several small holes along its length. These flames light the wood; once the wood is well-lit, you can turn off the gas starter. Gas starters are safe if you use and maintain them properly.
Installation
It's important to install a gas starter correctly to prevent gas leaks in the system, particularly in older homes. Unless you have extensive experience installing gas and electric systems, you should have a professional install your gas starter. Be sure to do a pressure test on any new gas lines to ensure that there are no leaks. After the starter is connected, it's wise to check for leaks around the junction of the old and new lines.
Safe Use
Some gas starter systems operate remotely with a button, but many others, especially older starters, must be lit manually. Use a butane lighter with a long handle, and never turn on the gas flow to the gas starter before igniting the lighter. If the gas is flowing and it takes too long to ignite the lighter, enough gas might build up inside the fireplace to cause a large, dangerous flare when the lighter does ignite.
Maintenance
Check the condition of your gas starter at the beginning of every season by examining the fittings for damage and testing the gas flow. Don't allow ashes to pile up around the gas starter; remove ashes from the fireplace and place them in a sealed metal container after every fire or every other fire. If the ashes build up, they can interfere with proper air circulation in the fireplace and cause smoke to be drawn into the room.
Gas Starter or Gas Fireplace?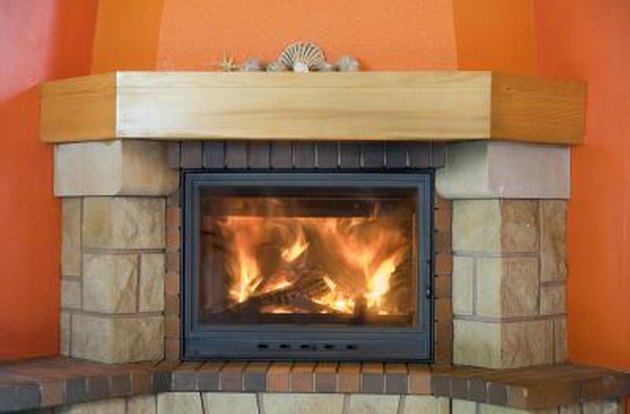 Don't use a fireplace with a gas line installed until you determine whether it is a gas fireplace or a wood-burning fireplace with a gas starter. Most gas fireplaces have fake logs behind a glass cover that you cannot open or close, but consult an expert if you are unsure. You should use your gas starter for only 10 or 15 minutes at a time; using a gas starter for extended periods can cause it to melt and fail.
---
Based in central Missouri, Rachel Steffan has been writing since 2005. She has contributed to several online publications, specializing in sustainable agriculture, food, health and nutrition. Steffan holds a Bachelor of Science in agriculture from Truman State University.