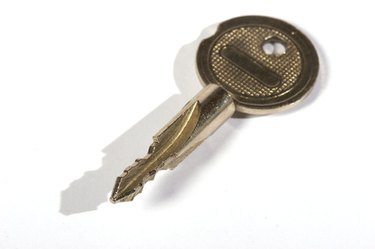 Honeywell offers a line of chests, safes and lock boxes in a variety of sizes and with multiple protective features. Many Honeywell safes are fireproof and waterproof, and made of hardened steel to help deter vandalism. Several types of safes open with both a combination and a key, providing a double layer of security. If you lose the key to your Honeywell safe, or just want to purchase a extra ones, you can order additional keys from Honeywell for $6.95 each.
Step 1
Write your name, address and telephone number on a sheet of paper. Include your safe's serial number or safe model number. Indicate whether you are requesting override or companion keys, and how many keys you would like. Write down the key number. This number is found on the safe's lock.
Step 2
Obtain a check or money order for $6.95, and make it payable to "SISCO." You may also pay via credit card by going to the Honeywell website or calling 800-223-8566.
Step 3
Mail the request, along with payment, to "Attn: Customer Service Dept., SISCO, 2835 E. Ana Street, Rancho Dominguez, CA, 90221." If you paid by credit card or money order, your key usually ships within 72 hours. For check payments, the key is shipped within 14 days.
---
Melissa King began writing in 2001. She spent three years writing for her local newspaper, "The Colt," writing editorials, news stories, product reviews and entertainment pieces. She is also the owner and operator of Howbert Freelance Writing. King holds an Associate of Arts in communications from Tarrant County College.