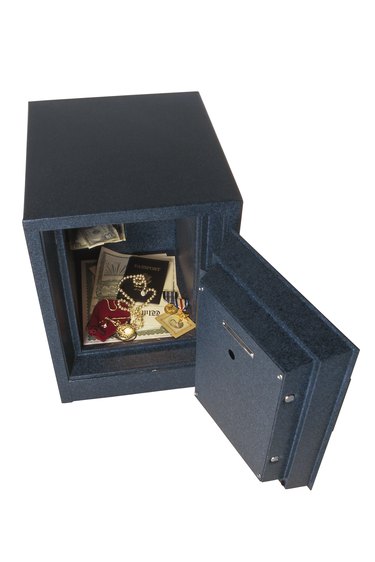 A home safe is a sound investment for protecting your valuables and personal information. Honeywell has manufactured reliable home safes for years, and like many safe manufacturers, has been using electronic locks in its most recent models. An electronic lock offers the advantage of allowing your to change your passcode frequently, prevent any unauthorized people from accessing your safe. Resetting the code and programming a new one is a straightforward process.
Step 1
Enter your current passcode on the keypad. Once the code is entered, the green LED will light and you will hear the lock click.
Step 2
Rotate the handle clockwise and pull the safe door open.
Step 3
Press the red memory button, located near the bottom hinge on the inside of the door. The keypad will beep three times and the amber LED will light up.
Step 4
Enter your new passcode on the keypad. It can be anywhere between three and nine numbers. Once the passcode has been entered, press the # key. The keypad will beep three times and the amber LED will light up again.
Step 5
Test out your new passcode before closing the safe. With the door open, turn the handle counter-clockwise and wait three seconds for the safe to lock. Enter your new passcode on the keypad and wait for the green LED to light up and the lock to click. Turn the handle clockwise and close the safe. Turn the handle counter-clockwise to lock the safe.
Tip
Change your passcode every few months. Make your passcode something that is easy for your to remember but would be difficult for someone to guess. Avoid common numbers like birthdays and Social Security numbers.
---
Michael Scott is a freelance writer and professor of justice studies at Westminster College in Salt Lake City, Utah, and is a former prosecutor. Scott has a J.D. from Emory University and is a member of the Utah State Bar. He has been freelancing since June 2009, and his articles have been published on eHow.com and Travels.com.