It's time to replace your thermostat, which means out with the old and in with the new. Honeywell thermostats, whether square, round, thick or thin, are simple to remove when you're ready to swap out your old model with a newer, slicker version. The nifty thermostat allows you to control your home temperature with a simple click of the button. Other features include a time display, date display and humidity percentage. Removing your unit will only take a few minutes of your time, and in some cases, you can skip the tools, unless the thermostat plate is attached with screws. Regardless, you'll be finished with removal and onto installation in no time.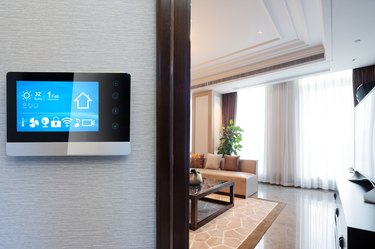 Battery Compartment Removal
Some Honeywell models require that you take the battery compartment out in order to remove the front plate. Push down on the top of the battery compartment and rotate it out. Slide your fingers under the back of the thermostat plate and pull it straight out. And voila, you've removed the thermostat. Now, if you want to put it back on, line it up nice and straight and click it back into place. Take the battery compartment and push it back in. Easy as pie.
Removing the Plate and Base
Most thermostats can best be removed by gently being pulled from the wall. But be careful not to pull too hard as you might detach the base from the wall. If the cover doesn't easily detach, you may need to remove a screw, or press a button or latch to remove it. This is an instance when you might need a screwdriver for removal. Once the old cover is taken off, the thermostat base will remain fixed to your wall. Wires should be coming from the wall and fastened to the terminal base, although not all terminals will have wires attached. If you can't see the wires poking out from the wall and affixed to the thermostat terminals, you may have an additional plate that needs to be removed with a screwdriver. Once the additional plate has been taken off, you should be able to see the wires.
A Few Things to Keep In Mind
To protect your equipment, it's best to switch off the power to your heating and cooling system at the circuit breaker box or at the circuit switch near your heating and cooling system. Also, keep in mind that once you can see your wall plate and wires, you will need to check to make sure your thermostat will work with this system. If your thermostat has thick wires with wire nuts connecting them, you most likely have a baseboard heat or a line voltage system. The WiFi Honeywell system will not work on a line voltage system.
---
Caroline is a writer from NYC. Her writing has appeared in L.A. Weekly, Elle.com, New York Magazine, Marie Claire and The Huffington Post. She produces content on women's health/wellness, design/DIY and business for companies such as Meredith Corporation, Leaf Group and the business school, Hautes Études Commercials Paris. She's a former Production Associate and blogger at Show of Force, the production company behind Nicholas Kristof's and Sheryl WuDunn's, Half the Sky.
View Work