Things You'll Need
Lead test kit

Protective gear

Sandblaster

Chemical paint stripper

Steel wool

Sandpaper

Wire brush

Drill with wire brush attachments

Pressure washer

Heat gun

Torch
Warning
Do not employ any heating methods after using chemical strippers. If you feel uncomfortable with any of the paint stripping methods, or have to remove lead-based paint, hire a professional to strip the paint for you.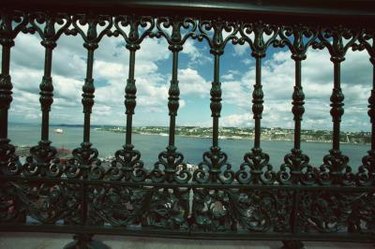 Older houses often have beautiful wrought iron railings and handrails that look like works of art. Containing gorgeous, intricate designs, many of these wrought iron art pieces have been painted and repainted multiple times. After years of wear and layers of paint, it can be hard to know where to start stripping off all of the old paint.
Step 1
Test the paint with a lead test kit to see if any of the layers are lead based. If you find lead-based paint, take extra precautions such as wearing a dust mask and other protective gear.
Step 2
Sandblast the railings. This is one of the fastest and most effective ways of removing layers of paint from wrought iron railings. Sandblasting aims a blast of high-powered sand directly at the wrought iron, stripping away the layers of old paint. Many home improvement stores rent sandblasters. If you don't feel comfortable using one, hire a professional to sandblast for you.
Step 3
Apply a chemical paint stripper. This is a very labor intensive method to remove built-up paint layers from your wrought iron. Usually, you will have to clean your railing, apply stripper and wait the recommended period of time on the stripper's directions. Using steel wool, sandpaper or a wire brush, begin scraping. Always use chemical strippers in a well-ventilated area and wear a dust mask and eye protection.
Step 4
Attach wire brushes to a drill. Home improvement and hardware stores sell attachments that fit on to drills. This method takes a long time, but the drill does most of the work, so it's not overly strenuous.
Step 5
Use a pressure washer to strip paint from wrought iron railings. Pressure washers are effective, but don't do as well as sandblasting.
Step 6
Utilize a heat gun to melt the paint. A heat gun is almost like a blow dryer for your hair, but it gets much hotter. This method still involves scraping and wire brushing.
Step 7
Use a torch with a flame spread to burn off layers of old paint. This method should be left only to those skilled in the use of torches. Using a torch still involves scraping. Never use a torch after you have applied paint stripper.