Things You'll Need
Paint thinner

Large wire scrub brush

Clean 5 gallon bucket

Mop bucket with wringer

2 mops

12 inch putty knife

Water

Heavy rubber gloves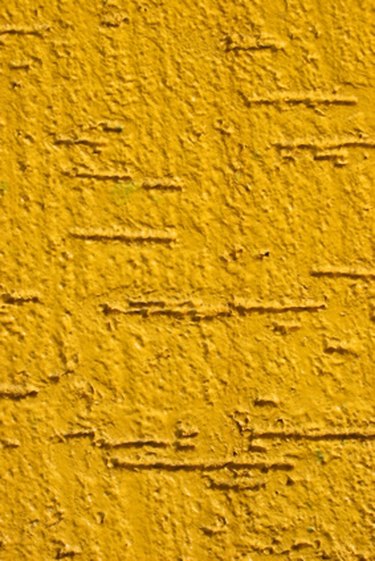 Concrete walls and floors will last for many years. Paint can be applied to the concrete to gain a fresh new look. Over time, layers of paint will build up on the concrete and eventually begin to flake and peel. In order to get a clean look from fresh paint, or to revert to a bare concrete look, you will need to begin the project by removing the old paint. This process takes quite a bit of time, a lot of elbow grease, and the proper technique.
Step 1
Pour paint thinner into the 5 gallon bucket. Apply the thinner to the area to be cleaned with your mop. Allow the thinner to remain on the area for 15 minutes.
Step 2
Scrape away the soft paint with the putty knife. Hold the scraper at a 45-degree angle and dig into the paint to pull it away from the concrete.
Step 3
Reapply paint thinner as necessary to loosen layers beneath the ones you have already removed. Scrub any stubborn spots with the wire brush.
Step 4
Fill the mop bucket with water and use your fresh mop to thoroughly clean away any residue and thinner that still remain. Repeat the entire process as necessary to remove all of the paint from the concrete.
Warning
Paint thinner is an extremely hazardous and flammable chemical compound. Always read and follow the manufacturer's instructions before and during use of any chemical.
Please dispose of used paint thinner and contaminated mops, buckets, and other materials in a legal and environmentally friendly manner.
Heavy rubber gloves are a necessity when working with harsh chemicals such as paint thinner.