Things You'll Need
Rattan furniture

Paint

Sponge brushes

Drop cloth

Lots of time
Tip
Spray paint may seem like an easy solution when it comes to painting rattan and it can be—as long as you don't mind going through three full cans of paint for a single chair. Since rattan does not usually have a broad surface and is often ornate, the spray paint is not going to go very far. You're going to have to waste a lot that ends up spraying nicely on your drop cloth. It's a very expensive option. If you can find a spray paint of a similar or same color as the paint you are using, it does make an easy option for very teeny crevices the sponge won't reach.
Warning
Sponge brushes are not meant to last, especially if you are jamming them into rattan crevices. Make sure you have several of them lined up and ready for use when the one in your hand falls apart. Don't try to paint rattan furniture, or anything for that matter, in the dark.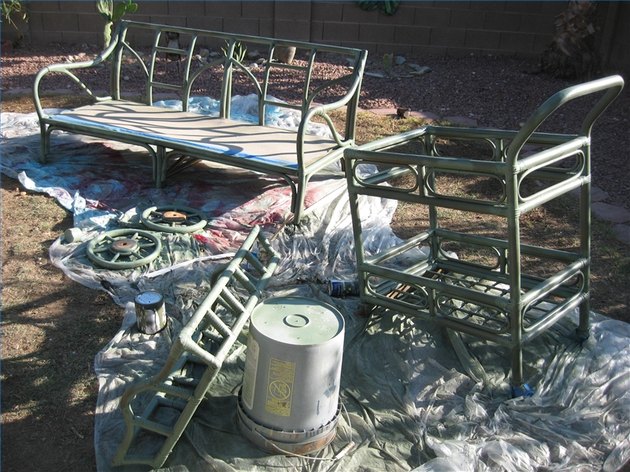 You love the new outdoor set of furniture you found at the thrift store. But you hate its disgusting brown color. Not to fret, you can paint rattan furniture with a few swipes of a brush. Well, it takes more like a ton of swipes, pats and touch-ups with a brush, but it's not an impossible task. You can paint rattan furniture any color of the rainbow, or include the whole rainbow, with a few simple tips.
Step 1
Gather your supplies. Sponge brushes are going to work better than regular paint brushes because they distribute the paint thicker and can be jammed between the rattan's crevices. A can of paint is going to be better than spray paint because of the cost and ability to pile on thick sections of paint where the rattan is ornate. You'll also want to pick a paint made for outdoor furniture, which is waterproof and stands up to the elements. Your hardware store will have all of this.
Step 2
Ready the furniture. This means sanding any rough edges, repairing any fractured legs and wiping or hosing off any dust and debris. You may also paint the furniture first with a paint primer so you'll know you'll only need one coat. Using a primer will often double your work, however, if you know you've chosen a paint that will successfully cover the color underneath.
Step 3
Begin to paint. Start by slathering generous amounts of paint with a sponge brush on all the larger areas, like the arms, legs and supports of the furniture. Make sure the paint is thick enough to cover any vestige of the old color but not so thick that it congeals in unsightly gobs.
Step 4
Continue to paint by filling in the smaller, more ornate areas. This will take some patience but the areas will become very obvious one you've got the base painted and the old color screams through in the more detailed regions.
Step 5
Do one more look-over to see if there are any parts you missed. With rattan, there usually are. Apply more paint to those areas with the sponge brush and, again, a lot of patience.
Step 6
Allow the paint to dry and apply sealer if your furniture is going outside and you have not used a waterproof, outdoor paint.
---
Ryn Gargulinski is a writer, artist and performer whose journalism career began in 1991. Credits include two illustrated books, "Bony Yoga" and "Rats Incredible"; fitness, animal, crime, general news and features for various publications; and several awards. She holds a Master of Arts in English literature and folklore and a Bachelor of Fine Arts in creative writing with a French minor from Brooklyn College.