Squeaky is all about the borderline genius hacks and ideas that keep literally every inch of your space pristine.
Patio furniture can take a real beating since it's left outside through all sorts of weather. Wood furniture can fade in the sun, paint can start to peal away, and patio cushions can become stained and mildewed. This guide will show you how to clean and revive battered patio furniture with ease, and save you some money, too!
How to Clean Plastic Patio Furniture
When plastic patio furniture loses its luster and gets dirty, you can easily clean it by mixing 1 tablespoon of liquid dish soap with 3 cups of warm water. Dip a scrub brush in the cleaning solution and gently scrub away any dirt and residue, then rinse with a water hose. For really dirty spots, use a Mr. Clean Magic Eraser to easily remove any dirt and stains.
How to Revive Metal Patio Furniture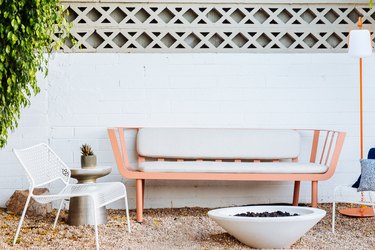 After being in the sun and rain, metal patio furniture's paint can start to peel. You can easily revive your metal pieces by using fine grit sandpaper to remove peeling paint, then spray it with a couple of coats of outdoor spray paint. You can either use the same color as your current patio furniture or give it a whole new look with a different color.
PRO TIP: Spraying three light coats from 12 inches away will yield a much better and smoother result that trying to spray the paint on too thick.
How to Clean Dirty Patio Cushions
If your patio cushions are only slightly soiled, you can make a cleaning solution using 1 tablespoon of liquid dish soap and 3 cups of warm water. Simply scrub the patio cushions with the solution and rinse with a water hose, then let air dry. If your patio cushions are really dirty or have mildew on them, you can get them clean using a pressure washer.
How to Revive Wooden Patio Furniture
Wooden patio furniture can splinter and fade over time, but it's pretty easy to revive. To make wooden patio furniture look like new again, start by sanding any splintered or faded areas of the furniture. If you'd like to maintain a natural wood look, buff the furniture with a wood furniture wax. The wax will help pull out the wood's natural tone and protect it from the elements. If your wooden furniture needs a little more help, you can stain it or give it a few coats of paint!
How to Revive Wicker Patio Furniture
Wicker patio furniture is a bit harder to maintain outdoors, but with a few steps, you can revive it, as long as the wicker isn't too broken. If there are just a few pieces of wicker broken here and there, use a pair of wire cutters to remove the broken pieces. To clean wicker patio furniture, use a vacuum cleaner to remove any debris. Then, wash the wicker down using a soft cloth and a cleaning solution made using 1 tablespoon of liquid dish soap and 3 cups of warm water. Once the furniture has dried completely, you can spray paint the furniture with clear polyurethane spray paint or with a colored spray paint.