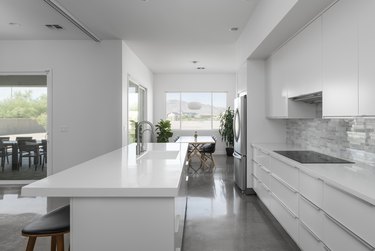 A wide expanse of natural stone countertop is elegant and stylish. Durable stone or slate countertops are a favored addition to kitchens and bathrooms. Granite continues to be a popular choice for remodeling and for increasing resale opportunities.
When choosing a type of stone, there are many things to consider. Each type of stone has its own set of attractive features, advantages and disadvantages. Knowing the good points and drawbacks of slate or granite countertops can help you narrow down your choices and buy the best product for your needs.
Slate, granite, quartz and soapstone countertops each have their pros and cons. Make an informed decision about each type of countertop before installing them in your home to ensure they will work for what you have in mind.
Pros of Having Slate Countertops
Slate is ideal for busy kitchens. The non-porous slate surface is durable, as well as easier to clean and maintain than granite, marble and even concrete. Slate is also more affordable than granite.
The hard material is ideal for high traffic areas because it doesn't chip or scratch easily. It stands up to hot pans accidentally placed on the bare countertop, as well as curling irons and other high heat beauty tools. The non-porous stone doesn't absorb oils, grease, powders and dyes, so it is easy to maintain in kitchens and bathrooms.
Slate is gorgeous for a good many reason, most of which come from how it is formed. The layered metamorphic rock is formed when mudstone or shale is placed under tremendous amount of pressure over thousands of years. This is why its color wheel is rather narrow.
The Cons of Installing Slate
The one major downside for slate is that the corners can begin to be brittle overtime. The material is sharp around unbeveled edges, so it is recommended to have the corners professionally rounded off. This will cut down on cracks or chips in these areas.
This is a rather subdued color choice that can make a statement in the right kitchen, or bring a dull look to a dark, small space. Slate is also dramatic, and tends to become a focal point of a kitchen or bathroom. Take that into account when considering the room's design scheme.
Subtle Shades of Slate
Slate has a wide range of deep gray and brown shades with contrasting or complimenting rivers of subtle colors. Certain slabs of slate are shot through with highlights of blue, green or coppery red. This makes each slab of slate unique.
The refined variation in the color of slate creates a subtle but uniform expanse of countertops. The shades of slate come in a few shades, including black, gray, pewter, charcoal and brown.
Pros of Installing Granite Countertops
The natural look of granite increases the value of a home, which can be important if you are considering reselling the property. Granite is much more durable than its stone countertop counterparts and is also heat and scratch resistant.
Bacteria and dirt can't get a purchase on the slick, sealed surface of granite. The durable surface can take a heavy pot, but if a chip finds its way into the granite countertop, then it can be easily fixed by the average do-it-yourself weekend warrior.
Granite is great for home chefs who bake. It will hold the low temperatures needed to roll out chilled dough and breads.
Cons of Granite in Busy Kitchens
There are a few disadvantages to installing gorgeous slabs of granite in your living spaces. It's more expensive than slate and needs regular maintenance to keep the seal in good shape. It can crack under pressure, but it takes a lot to damage this natural product.
Slabs of granite will have seams, typically 2 to 3 seams per installation in an average sized kitchen. The typical size of granite is 9 feet by 5 feet. The size of the slab can depend on the color.
Granite is porous and needs to be sealed before they are installed. Any liquid left too long on the surface of the granite, even if it is sealed, will be absorbed into the countertop. Left alone, it should evaporate, but acidic liquids such as vinegar and lemon juice can cause damage if left too long on granite countertops.
Color Choices for Granite
Granite is favored for its mottled and natural, earth-tone appearance so you won't find overly bright or solid patterns in slabs.
There is often a wide range of shades and patterns within the same color of stone. For instance, a white granite with specks of black and clusters of silver may also have streaks of black flecks in certain areas.
Slate vs Granite
From cost to color, there are many differences when comparing slate vs. granite.
The color choices are relatively the same — a range of light gray to dramatic black. Each has interesting highlights and tone differences that make them truly unique for each installation. The cost varies widely, depending on a few factors.
There are a few main points to consider before installing a stone countertop. The basic breakdown is as subtle as the selection of shades that each stone countertop.
Slate is much more subtle in appearance than granite that is peppered with spots of black, silver, cream or gold. But granite is much more durable and easier to fix than slate. A bit of putty in the occasional divot or chip can smooth out the surface. A quick reseal and a marred granite top looks smooth with a pristine finish once again.
Granite is more porous than slate and requires non-abrasive or acidic cleaners that can take down the sealant. Slate doesn't absorb stains easily and is easier to clean than granite. The surface of slate is also ready for wear and tear and doesn't require periodic sealing like granite does.
Granite, though, can stand up to all that a busy kitchen delivers. It will repel knife scratches and hot pans, while slate can chip along the vulnerable edges and corners.
If you're torn between slate and granite countertops, then consider the costs. Natural stone, in general, is on the higher end of the countertop budget. Slate and granite can both be costly, depending on the shade and cut of the stone material.
Granite has a much wider swing of cost, with some lower-end pieces available for as much as a manufactured or high-end laminate countertop. Granite countertops can cost from $50 per square foot to nearly $300 per square foot, including installation.
Slate, on the other hand, is much less expensive than high-end granite. It runs around $50 to around $70 per square foot after installation. It is also less expensive to maintain and seams aren't always an issue if you have a kitchen with an odd shape or many bends and corners.