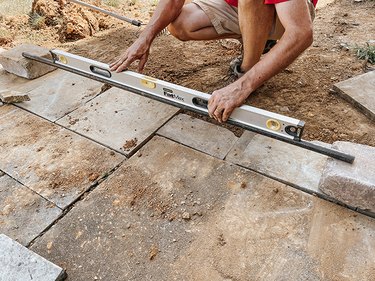 Forget buying a new abode — this summer, it's all about home renovations. According to research by home improvement website Thumbtack, 48% of homeowners plan to spend $10,000 or more on home projects this year.
Where are they putting that money? Thumbtack has also shared the most popular home improvement projects this year.
Exterior Home Improvement Projects
As we move toward summer, it should come as little surprise that people are upgrading their outdoor spaces. Thumbtack reports that the most popular projects (and their respective costs) are:
‌Landscaping and design:‌ $1,034-$5,720 on average
‌Tree removal and trimming:‌ $400-$2,839 on average
‌Gate and fence installations:‌ $5,206-$7,000 on average
‌Concrete installations:‌ $3-$10 per square foot on average
‌Exterior house painting:‌ $3,014-$8,117 (for a 2,500-square-foot home) on average
‌Gardening:‌ $50–65 per hour on average
‌Deck and porch remodel or addition:‌ $2,925-$15,329 on average
‌Gazebo installations and construction:‌ $202-$1,500 on average
‌Sod installations:‌ $1,568-$2,409 (for 2,500 square feet) on average
‌Play equipment construction and assembly:‌ $350–$850 on average
Interior Home Improvement Projects
Inside the house, homeowners are ready for easy refreshes. The top 10 projects, according to Thumbtack, are:
‌Interior painting‌‌:‌ $5,401-$24,282 (for 1,400–2,800 square feet) on average
‌Flooring installations:‌ $1,583-$7,101 on average
‌Switch and outlet installations:‌ $175-$260 on average
‌Lighting installations:‌ $150-$225 on average
‌Door installations:‌ $250-$350 on average
‌Tile installations:‌ $750-$4,000 on average
‌Bathroom remodels:‌ $9,809-$18,640 (for a 40-square-foot full bath) on average
‌Appliance installations:‌ $120-$150 on average
‌Home remodeling services:‌ $2,500-$30,500 (depending on scope) on average
‌Wallpaper installations:‌ $350-$1,250 on average
Given the current real estate market, adults are updating their current homes for "aging in place," rather than downsizing into a new, more accessible home. Those updates include adding ramps and grab bars in a bathroom, widening doorways, adding handrails, and changing cabinet or countertop heights.
Overall, home modifications for accessibility are up 238% year-over-year, and Thumbtack has seen that trend continuing to rise over the past three months.
Weather Repairs and Climate Change Updates
It's been a wild year for weather, thanks to climate change, so homeowners are making repairs and preparing for the future. Thumbtack has noted an uptick in water damage repair and cleanup projects, generator installations, and water treatment system installations.
Plus, sustainability is on the rise. Energy efficiency is key, so solar panel installations (which can save you up to $2,500 a year on your energy bill), along with insulation upgrades and installations, are trending.
General Pre-Summer Maintenance
Owning a home requires a fair bit of maintenance, and homeowners are constantly tackling those projects. Preparing for this summer is no exception! Common tasks homeowners are currently tackling include:
‌House cleaning:‌ $164-$200 on average
‌Lawn mowing and trimming:‌ $55-$70 per hour on average
‌Junk removal:‌ $200-$600 on average
‌Pressure washing:‌ $281–$850 on average
‌Carpet cleaning:‌ $175-$400 on average
‌Pest control services:‌ $125-$300 on average
‌Swimming pool cleaning and maintenance:‌ $80-$200 per month on average
‌Home organizing:‌ $150-$500 on average
‌Gutter cleaning and maintenance:‌ $200-$500 on average
‌Duct and vent cleaning:‌ $200-$860 on average
If you've been putting off preparing your home for the season to come, let this list serve as inspiration.