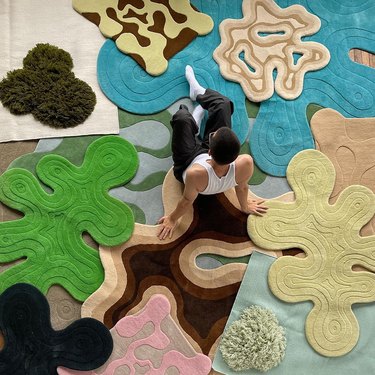 Even for those who haven't seen the beloved Coen brothers cult classic ‌The Big Lebowski‌, it's common knowledge that a great rug can really tie a room together. While rugs in traditional geometric shapes will always have their time and place, there's been a recent shift in interior trends toward funkier and more avant-garde rugs.
Why Are Irregular-Shaped Rugs Trending?
"A departure from the more minimalist styles of the last few years, shoppers are embracing vibrant color palettes and irregular shapes as a way to inject joy and add a dose of playfulness into their homes," Etsy trend expert Dayna Isom Johnson, tells Hunker.
Looking to irregular-shaped area rugs as a means of achieving these pops of visual intrigue and happiness in one's living space is an easy, savvy move. For one, they can be rotated in and out with ease. Plus, they come in a vast range of sizes and prices.
"Shoppers are looking to add pops of personality to their homes, and adding rugs with vibrant colors, unique shapes, or standout patterns is a great way to make a statement and bring that 'wow' factor to any space," continues Johnson. "And because these rugs come in a variety of shapes and sizes, there's something for every style and budget."
The interior design experts over at Forbes Masters have been using irregular-shaped rugs to incorporate visual flair into their work for years. "We are always looking for ways to break the lines of symmetry in a space, be it with wallpaper or a paint treatment," founders and principal interior designers Monet Masters and Tavia Forbes, tell Hunker. "These rugs offer the same bold statement. A true work of art in any space."
This trend piggybacks off other style fads we're seeing, such as the rise in squiggly decor popularity. These aesthetics go hand in hand, pointing to a broader affinity for all things bright, bold, joyful, eye-catching, and unique.
"We are experiencing a revolution in design, both in fashion and interiors — anything goes," according to Forbes and Masters. "People are looking to express themselves in ways that truly honor their personal styles."
Where Do You Put an Irregular-Shaped Rug?
So, what's the best way to dip your toe into the waters of irregular-shaped rugs? Well, that depends on you!
"The best thing about statement rugs is that they can be used in any space, from living rooms and hallways to bathrooms and even backyards," explains Johnson. "Maximalist-minded shoppers can go all out with the trend by mixing bold rugs with other prints and patterns, while others can pair them with simple, neutral decor to make the rugs the focal point of the space."
Forbes and Masters recommend deploying these sorts of statement rugs in areas that already have an eccentric bend to their look and feel. "These rugs really come to life in bold, artistic spaces that celebrate dissymmetry," they say.
Where to Buy the Best Irregular-Shaped Rugs, According to Experts
When it comes to what irregular-shaped rugs are out there on the market right now, there are many great options from which to choose on Etsy. Meanwhile, Forbes and Masters plug Jaipur Living's Iconic Collection, which they say has been a favorite of theirs since its debut.