Sofas are one of the most essential pieces of furniture in a home — so essential, in fact, that even the most frugal folks are willing to drop some cash on a quality couch. But a big purchase like this warrants quite a bit of research. To support you in the inevitable internet deep dive, I tested the Get Together Modular Sectional from Sundays — one of the hottest new direct-to-consumer furniture brands — to see if it's worth the hype. (I know, hard work.) In doing so, I've spent countless hours working, lounging, and napping on this sofa over the past few months. Here's everything to know if you're considering this buzzy buy.
‌‌​(While I did receive the Get Together Modular Sectional in exchange for an honest review, all of the following thoughts and opinions are my own and are not influenced by Sundays in any way.)‌
What is Sundays' brand philosophy?
The founders of Sundays aimed to seamlessly mesh beauty and functionality. The brand prioritizes quality, durability, and comfort. Ease of browsing, ordering, and delivering is also top of mind. Plus, thanks to the online platform, the brand is able to eliminate any markup.
What was my ordering, shipping, delivery, and setup experience like?
The website is easy to navigate thanks to a small, perfectly curated inventory. Since it was a new addition to the collection, the Get Together was backordered and took about two months to arrive. This is no longer the case since the sofa is now in stock and ready to ship. The purchase comes with free home delivery and assembly, which is quite rare (and such a treat). And the process couldn't have been any easier. Three people put it together in under 20 minutes, cleaned up the trash, and were on their way.
Why did I pick the Get Together sectional over the Movie Night?
The Movie Night is Sundays' signature sofa and has a pretty close resemblance to RH's rather iconic Cloud Couch. It's casual, slouchy, and ridiculously cool-looking. It's one of those sofas you sink right into. While I love the lived-in feel, I was looking for something just a bit more tailored. I didn't want to feel like I had to fluff the couch after every sit. I did, however, still want something exceptionally comfortable. The Get Together was therefore a no-brainer. (For reference, I went with the Get Together 4-Piece Modular Sectional in Light Pebble, which is the most perfect gray hue with a hint of beige.)
Between the deep seats, stain-resistant fabric, and soft yet supportive cushions (that hold their shape!), this sectional checked literally every box. The best part? It's somehow even more gorgeous in person.
Is the Sundays Get Together comfortable?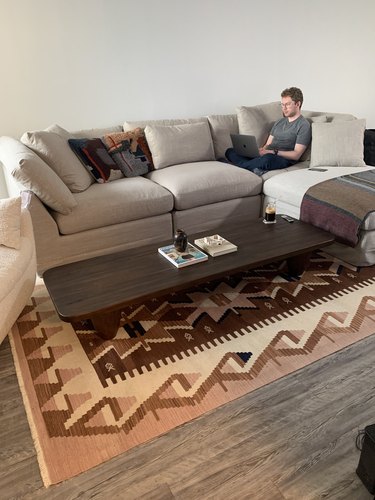 The Get Together sectional is next-level comfortable, like possibly the comfiest sofa of all time. The seats are even deeper than I imagined, and the chaise lounge is very wide. It's so comfortable, in fact, that I sleep on it at least twice a week. And I sleep like a baby, might I add. It also comes with five throw pillows for added support. Because the modular pieces sturdily connect to one another, there is no movement or gapping whatsoever.
Is the fabric actually stain-resistant?
You'll have to thank my significant other for putting the fabric's stain-resistant claims to the test. He smooshed a nice piece of chocolate into the cushion, and once I quietly (okay, not so quietly) panicked, I remembered that this material is purposefully conducive to children, pets, and apparently boyfriends too. I lightly dabbed with a damp paper towel and hand soap for about 45 seconds, and sure enough, it was like the stain never even existed.
Are there any downsides to Sundays Get Together Modular Sectional?
The only thing I've noticed is in relation to the fill. While this can be expected with any nonfirm sofa, I will note that you can see a slight indentation of where you sat after getting up. It's subtle, but it exists. I don't even know if this would be considered a con, but I felt like it was important to include. I'll check back in a few months with an update on how the couch has continued to hold up, but I see no major changes anytime soon.
Is the Sundays Get Together sofa worth the price?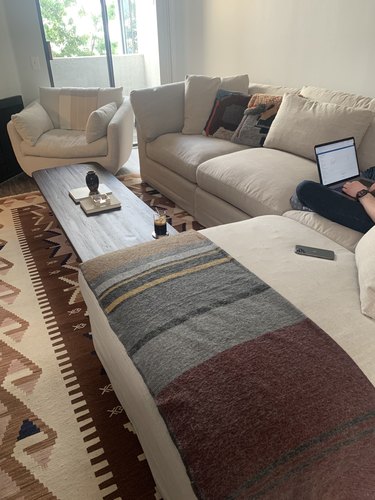 The Sundays Get Together is certainly an investment but an investment that's absolutely worthwhile. Every time someone walks in the house, we without fail get a compliment on the couch. It also just brings me an insane amount of joy. Like, it's literally the nicest couch I have ever owned in my life by leaps and bounds. Simply put, it looks expensive. I genuinely could not recommend this couch highly enough. It's truly as close to a perfect sofa as you'll get.