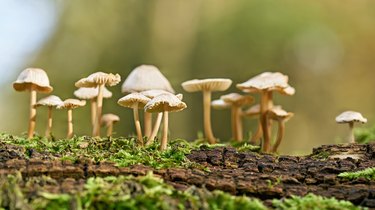 Step aside, herb gardens. This growing season, it's all about fungi. One of the biggest trends this spring is the rise of the mushroom log, a way to grow your own edible mushrooms in your backyard. Registered dietitian Jennifer Rock hopped on board the mushroom log train and posted a video to TikTok (@jrockrd) showing how they did it.
According to Rock, the process is relatively straightforward. To begin, you need to acquire mushroom plugs — essentially wooden dowels (yes, the type you use to build furniture) that are inoculated with spores from edible mushrooms, such as shiitake or oyster mushrooms. Consider these your "seeds."
Then, you need to get a fresh log that's one to three months old. Drill little holes in the log that are large enough to fit the dowels, drop in the dowels, and seal them with food-safe beeswax to keep the moisture in.
And that's it! Eventually, your log will spawn mushrooms that you can harvest for cooking.
"HBO's ‌The Last of Us‌ marketing is insane!" joked one commenter on the TikTok video. Just remember — not all fungi are out to infect humans. However, you'll definitely want to buy your mushroom plugs from a reputable source to ensure you're actually growing something you can eat!
Rock just started their mushroom log a few weeks ago, so there are no progress reports yet, but we're looking forward to seeing the results.