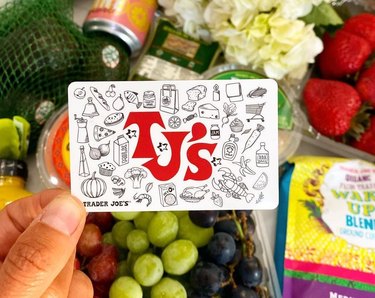 As shown in a post by Trader Joe's aficionado @traderjoeslist, the grocery retailer is now selling the Peanut Butter Brookie, a spin on the classic and beloved regular Brookie. For those who are unfamiliar, a Brookie is just a brownie and a cookie stacked on top of each other. In this case, the brand has replaced the standard chocolate chip cookie with a peanut butter cookie.
According to the box, the Peanut Butter Brookie is "fudgey brownie batter topped with peanut butter cookie batter baked together for a sweet combination of two favorite treats." Yum!
The creator of @traderjoeslist is taking a step back since they are allergic to peanuts, but commenters are drooling over the new flavor. One wrote, "It's so good! Of course, you have to like peanut butter cookies. One comment from a five-year-old, 'That's the best thing ever in my mouth!'"
It seems that some commenters prefer the original dessert, but that just comes down to the age-old battle of chocolate chip versus peanut butter cookies. Which would you choose?