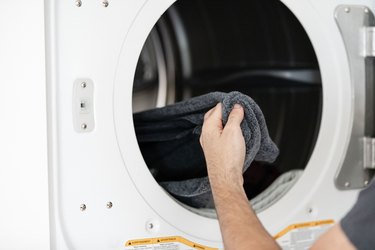 If you own a wool coat that's dry clean only, you probably know what it's like to repeatedly spend money on getting it cleaned. This can be especially frustrating when you're in a pinch and need it cleaned ASAP. But luckily, thanks to laundry pro and TikToker @melissadilkespateras, you can actually get the job done using the washing machine.
In a segment for CTV Your Morning, a show in Toronto, @melissadilkespateras explains the process. The first step is to brush off any dirt or debris (like salt), then check the pockets to remove any random items. Next, button or zip up the coat, and flip it inside out.
"Once it's inside out, you're going to fold it," says the content creator. "You can either put it into a garment bag or, what I do, is just use an old pillowcase." (So smart!) This will keep the coat contained so it doesn't move around too much in the washing machine.
Close the garment bag or, if you're using a pillowcase, tie it shut. Next, put in your washing machine on a delicate cycle with gentle detergent. Be sure to use cold water to prevent any accidental shrinking. From there, lay it out to dry and, if needed, use a clothing shaver to remove any pilling.
"I'm going to go do that right now with my dry clean pile of wool coats," commented one TikTok user. "I wish I had a wool coat just to try this," said another person.
Whether you're trying to save money or don't access to a dry cleaner, you'll definitely want to bookmark this technique. You can find the full step-by-step by visiting @melissadilkespateras on TikTok.
For more laundry tips and tricks, see our collection of washing machine hacks. Here, you'll find ideas for grease stain treatments, bleach alternatives, and washing machine deodorizers.