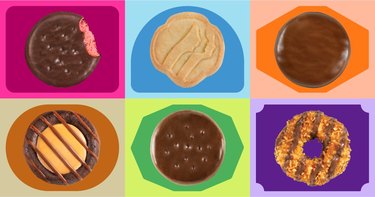 It's the most wonderful time of the year: Girl Scout Cookie season. Troops are beginning to assemble their communities in support of the most recognized entrepreneurial program for girls, packed with a robust lineup, a new flavor, and a new collaboration.
We got word of the new cookie flavor last summer, but now our taste buds can finally try the confection we've been dreaming about for months. The Raspberry Rally, a crunchy cookie filled with the fruity flavor and dipped in dark chocolate, has officially joined this year's assortment — and we couldn't be more excited.
Planet Oat Oatmilk also joined the team as a national sponsor for this season. Cookies and milk are an exemplary pairing, and now dessert fans are encouraged to explore the plant-based creaminess that is oat milk with their cookie of choice.
However, as with many other products (like eggs), Girl Scouts are experiencing an inventory shortage from one of their bakers that could impact select councils' launch of cookie sales. You can find out more from your neighborhood troop — just enter your zip code on the website if you don't know where to find one close to you.
To buy cookies this year, reach out to your favorite registered Girl Scout, check with your local council, or text COOKIES to 59618 to get more information. Beginning February 27, cookie monsters will also be able to purchase boxes online and have them shipped to their home.
For the time being, check out this year's official cookie lineup below. We are already drooling.
| | |
| --- | --- |
| Raspberry Rally | Crispy cookies filled with raspberry flavor, dipped in dark chocolate |
| Adventurefuls | Brownie-inspired cookies topped with caramel cream |
| Caramel Chocolate Chip | Gluten-free chewy cookies with caramel and chocolate chips |
| Caramel deLites | Caramel, coconut, and chocolatey cookies |
| Do-si-dos | Oatmeal sandwich cookies with peanut butter filling |
| Girl Scout S'mores | Chocolate and marshmallow filling sandwiched between two graham cookies |
| Lemonades | Shortbread cookies topped with lemon-flavored icing |
| Lemon-Ups | Lemon cookies engraved with inspirational messages |
| Tagalongs | Crispy cookies layered with peanut butter, dipped in a chocolate coating |
| Thin Mints | Chocolate cookies dipped in a mint chocolate coating |
| Toast-Yay! | Toast-shaped cookies with a french toast flavor, dipped in icing |
| Toffee-tastic | Gluten-free buttery cookies with sweet toffee bits |
| Trefoils | Shortbread cookies inspired by the original Girl Scout cookie recipe |