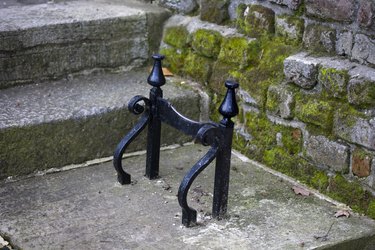 If you stroll down a street in an old city, one that has been around since at least the 18th century, you might stumble upon mini framelike metal fixtures embedded in the sidewalks outside front doors or perhaps even on front stoops. This is the humble boot scraper, and it was an essential part of daily life across Western Europe and the young United States for about two centuries.
It's not difficult to figure out what boot scrapers are used for, given their name. But what exactly are they scraping off your soles? Well, the French word for the boot scraper is "decrottoir," which roughly translates to "to remove excrement," per ‌The Guardian‌.
Before the advent of paved roads, pedestrians would, unsurprisingly, often have to trudge through some pretty mucky conditions. Between mud and excrement (both human and animal), shoes would quickly become filthy. This was typically an issue dealt with solely by those in lower societal classes because prior to the 18th century, walking as a form of travel was not something the rich had to deal with. Instead, they used their carriages to get around. However, when "strolling" became fashionable in high society, it was necessary to rid one's boots of filth before entering a proper home, according to The Independent.
Thus, the boot scraper was born. Traditionally made of cast iron, they were commonly found across Belgium, France, and the U.K. before hopping across the pond to the U.S. In America, older East Coast cities, from New York to Philadelphia and Charleston, saw them installed on sidewalks around town.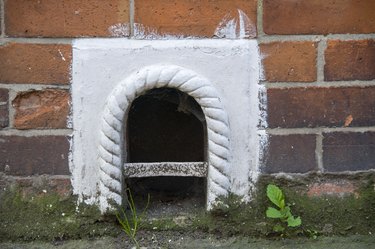 While many boot scrapers were quite basic in their design, there were Victorian-era boot scrapers that took on a decorative flair with elaborate ironwork and even miniature sculptures on occasion. Some buildings had boot scrapers built into their exterior walls; a ground-level, arched cut-out would house the cast iron bar for scraping.
Yet, as the streets cleaned up and societal norms changed — suddenly, the proper thing for guests to do was remove their shoes upon entering a home, per The Independent ‌—‌ the boot scraper fell out of style. However, they are still quite fashionable for antique collectors. Antique and vintage marketplace 1stDibs currently sells them for hundreds (and even thousands) of dollars.
Today, boot scrapers do exist in some rural settings. In place of cast iron frames, these scrapers are typically in the form of a portable wood block with bristle brushes that surround the boot.
Nevertheless, the decorative iron boot scrapers of prior centuries can still be found in older cities as relics of the past. And hey, perhaps one day you'll come across one of these scrapers when your muddy shoes need it most.