Things You'll Need
Shovel

Garden hose

Wheelbarrow

Gravel

Fill dirt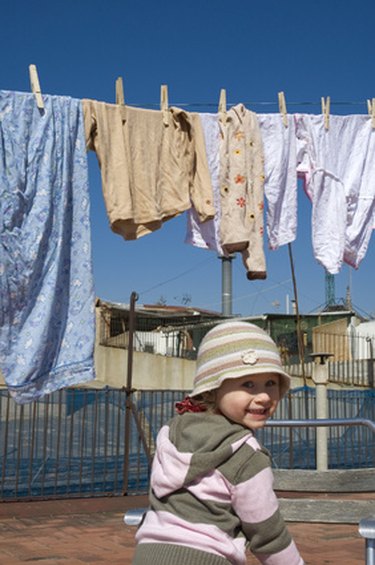 In years past, clotheslines with laundry gently swaying on the breeze was a mainstay of every backyard. Today, busy schedules don't allow for the time-consuming event of hanging the wash. Instead, gas or electric appliances are used. If you own an older home with abandoned clothesline poles and need to use that yard space, it's not impossible to remove the poles. However, many pole removal projects often result in all-day affairs.
Step 1
Call your local gas, electricity, telephone, water, television and Internet cable companies and provide your address to rule out any danger of digging and cutting off a utility. According to True Value Hardware, "Don't just start digging in your yard. Check with your local utility companies about gas and water lines, telephone lines or any other utility line that could cause either a disruption in your service or worse, a potentially dangerous situation such as with a ruptured gas line."
Step 2
Wet the ground around the pole. Most poles are set in concrete. Count on your poles being sunk deeply into the soil with concrete around the base of the pole. The depth of the concrete/pole varies and you won't know how deep until you're digging.
Step 3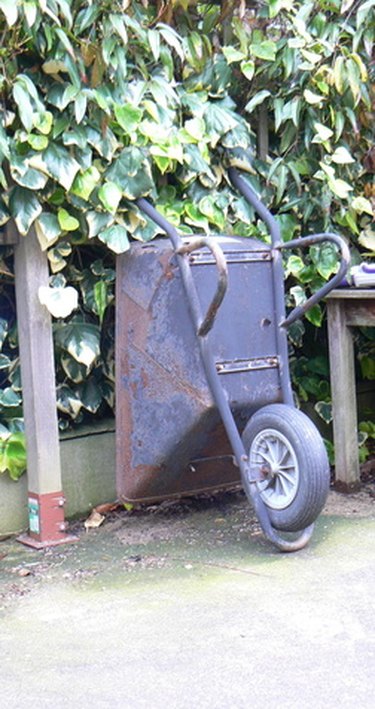 Position the wheelbarrow nearby to hold the soil you remove. You'll want to return this soil to the hole once the pole is removed.
Step 4
Dig around the cement base with a shovel. If your pole doesn't have a cement base, dig around the pole until you're able to lean against the pole, working it loose. You can then remove the pole. If you have a cement base, proceed to the next step.
Step 5
Wet the soil in the hole to loosen it. Continue digging around the cement base until you reach soil beneath the cement/pole. Once you've dug to the end of the cement/pole, proceed to the next step.
Step 6
Push against the pole to tilt it from the soil. Make sure no person, animal or other object obstructs the pole's path. When the pole tilts from the soil, drag the pole from the hole. Some steel or iron poles can be very heavy, so be prepared.
Step 7
Fill the hole half way with gravel to provide a foundation to keep the fill dirt from settling and causing an indention in your yard. Fill the remainder of the hole with fill dirt. You might have to return after a few days and add more dirt once it has had a chance to settle.
Tip
Some poles may need to be removed with the use of cranes or chains, and pulled from the earth with vehicles. If you aren't skilled in these areas or don't have access to such equipment, call a landscaping service for advice or safe removal of the poles.