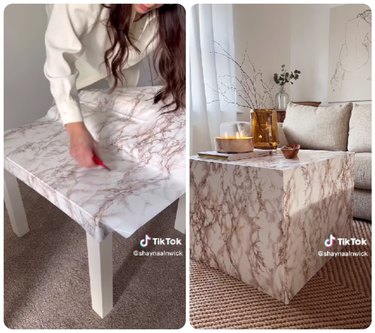 The project is by TikTok user @shaynaalnwick, who was inspired by a $1,000 marble table. To make it, they simply wrapped the top of the table with marble contact paper. Next, the contact creator wrapped four MDF cuts with the same paper, and added one piece to each side using glue and brad nails. This transformed the table into a block.
Finally, @shaynaalnwick sealed the edges with silicone. The entire project set them back less than £20, which is about $25. (The Lack table on its own costs just $15, BTW.)
On TikTok, users were loving the affordable hack. "I have three of these tables that I wanted to throw out, but not after seeing this," said one person. "I'm going to do the same [thing]," commented another user.
It's worth mentioning that some contact paper isn't totally waterproof, as it can warp and peel when it's continuously exposed to moisture and heat. With that in mind, if you want to recreate this IKEA project, be careful when placing drinks on top of the table. It's a good idea to use coasters whenever possible.
While you're at it, consider investing in high-quality contact paper, like this white granite version on Amazon. Some shoppers have used the product on their kitchen countertops and report that it has held up well. By using high-quality adhesive paper, you'll be able increase your project's longevity and get the most out of your hard work.
The best part? You can use the same approach with other IKEA pieces, like the Lack shelf, to create a cohesive look in your home.