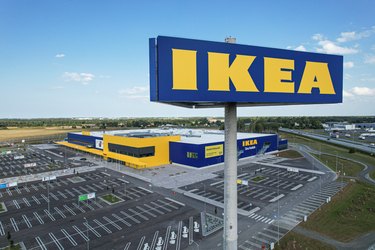 When thinking about IKEA products, affordable and easy classics probably come to mind. Outside of their famous Swedish meatballs, IKEA is known for affordable furniture staples like the handy dandy Billy bookcase and the popular Malm bed series. What's lesser known about the beloved Scandinavian retailer is the enthusiasm that certain shoppers and sellers have around vintage IKEA items.
"Vintage IKEA" might even sound like an oxymoron to you at first, but believe us, it's a thing. IKEA has been around since 1943, so it stands to reason that some products from way back when would be coveted to this day — not to mention that they cost a pretty penny.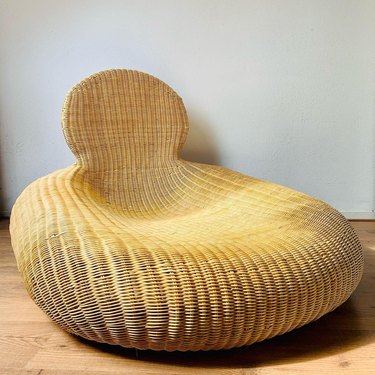 "IKEA sells affordable designs for the majority," Lisa van Steenbergen, co-founder of the vintage IKEA retail platform FURNITUREN, tells Hunker. "They offer a collection that is on trend, but also timeless, focusing on quality and function. They make their product valuable for a long time rather than changing every season." As such, there is a rich community of people like van Steenbergen, and they have committed themselves to collecting and selling IKEA products that have stood the test of time.
One of the most desirable vintage IKEA designs is the award-winning Storvik lounge chair, which is currently being sold on 1stDibs for $1,000 and on Chairish for over $1,000.
"This chair has a unique shape, making it well-known to all design lovers," elaborates van Steenbergen. "Also, the rattan material (not wicker) is on trend right now, so it's desirable to modern-day shoppers. The rattan itself is quite delicate, which makes finding this lounge chair in perfect condition a sport!"
Another famous Ojerstam design for IKEA was the Karlskrona wicker chaise lounge, which he designed in the 1990s. The uniquely shaped lounger is currently going for $2,500 on 1stDibs.
The most popular vintage IKEA items are those that were designed between 1980 and 1990. "This is because IKEA had defined itself as an established popular brand all over the world by then," says van Steenbergen. "The collections were very on-point with the trends at that moment, making the items now an icon of their period."
So, what turns an old IKEA product into a vintage collectors' item? According to van Steenbergen, IKEA opened its first United States location in 1985, so you could consider yourself pretty lucky to snag an item from before that year — not to mention that the brand didn't produce as much back then, so the pieces are few and far between.
Another criteria for vintage IKEA collectibility is the notoriety of a given product's designer. "Many designers and architects from all over the world started their career at IKEA," says van Steenbergen. "A lot of them are well-known designers now. Names you regularly see when you are browsing collectable IKEA pieces are Niels Gammelgaard (Danish), Gilles Lundgren (Swedish), Hella Jongerius (Dutch), Verner Panton (Danish), Marianne and Knut Hagberg (brother and sister from Sweden), and others."
It's tricky to predict what contemporary IKEA styles will be selling for thousands of dollars 30 years from now. Van Steenbergen says banking on items from limited collections is a solid bet as well as snatching up any unique designs that stand out from the pack. But better than trying to predict the future is embracing the special vintage IKEA designs that are popular right now.