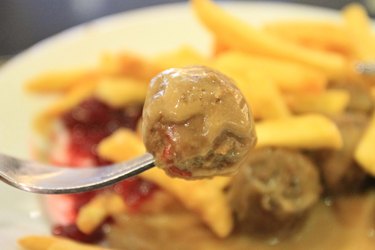 The one slightly bright side to quarantine has been a sudden release of corporate secrets — just to keep us entertained. Recently, Disneyland gave up a recipe for Dole Whip. And now IKEA's U.K. arm has just let the public in on the recipe for their iconic meatballs. (Which, now that we think of it, would have been brilliant for our freezer stockpiles.)
Of course, to make meatball-making even more fun, the retailer released the recipe in their famous instructional format (although we have a feeling you'll be able to assemble these with greater ease than putting together a Billy bookcase):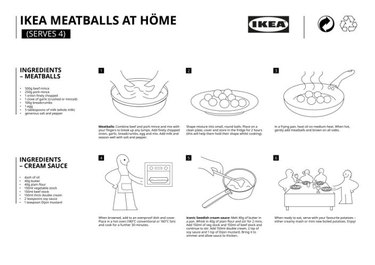 Ingredients for Meatballs:
500 g beef mince (aka ground beef)
250 g pork mince (aka ground pork)
1 onion finely chopped
1 clove of garlic (crushed or minced)
100 g breadcrumbs
1 egg
5 tablespoons of milk (whole milk)
Generous salt and pepper
Ingredients for Cream Sauce:
Dash of oil
40 g butter
40 g plain flour
150ml vegetable stock
150ml beef stock
150ml thick double cream
2 teaspoons soy sauce
1 teaspoon Dijon mustard
Instructions for Meatballs:
Combine beef and pork mince and mix with your fingers to break up any lumps. Add finely chopped onion, garlic, breadcrumbs, egg and mix. Add milk and season well with salt and pepper.
Shape mixture into small, round balls. Place on a clean plate, cover and store in the fridge for two hours (this will help them hold their shape whilst cooking).
In a frying pan, heat oil on medium heat. When hot, gently add meatballs and brown on all sides.
When browned, add to an ovenproof dish and cover. Place in a hot oven (180C conventional or 160C fan) and cook for a further 30 minutes.
Instructions for iconic Swedish cream sauce:
Melt 40g butter in a pan. Whisk in 40g of plain flour and stir for two mins. Add 150mL of veg stock and 150mL of beef stock and continue to stir. Add 150mL of double cream, 2 tsp of soy sauce and 1 tsp of Dijon mustard. Bring it to simmer and allow sauce to thicken.
When ready to eat, serve with your favourite potatoes - either creamy mash or mini new boiled potatoes. Enjoy!

---
Leonora Epstein is Hunker's Senior Director of Content. She has previously served as Executive Editor at HelloGiggles and as BuzzFeed's Deputy Editorial Director. She is the co-author of "X vs. Y: A Culture War, a Love Story" (Abrams, 2014). Feel free to reach out at leonora@hunker.com.