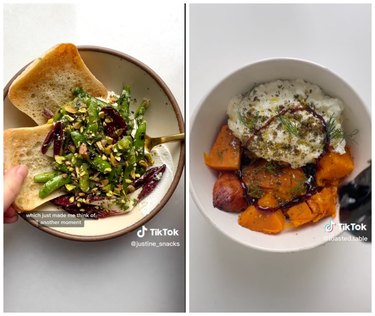 The last few years have seen countless standout food trends, especially with the rise of TikTok. A perfect example is when butter boards became the new charcuterie boards late last year. However, now it would seem that there is a potential new food trend on the rise, one that may usurp both charcuterie and butter boards altogether. We're talking cheese bowls.
We first came across a cheese bowl in a recent video by TikTok user @justine_snacks, who says, "I promise I'm not trying to take down the charcuterie industry ... but cheese bowls are more of a meal concept because I'm always thinking, 'How can I turn this into a meal and how can I avoid cooking a protein?'"
Justine starts by making an Italian salsa verde, which involves chopping and combining fresh parsley, fresh dill, garlic, shallot, preserved lemon, and capers. Olive oil, white wine vinegar, and salt are added to the mixture. Sugar snap peas are then charred on the stove and added along with radicchio leaves.
As for the cheese part, Justine adds a large scoop of ricotta to their serving bowl before topping it with the rest of their ingredients. This is garnished with roasted pistachios and served with a side of bread.
Another cheese bowl TikTok video that caught our attention is one that @toasted.table posted in December 2022. In place of ricotta, they use cottage cheese alongside baked sweet potato, dill, za'atar, olive oil, and date syrup. In the comments of this video, someone adds that they've been preparing a similar dish for breakfast with diced tomato, cucumber, flaky salt, olive oil, and a balsamic glaze.
Next time you're in the mood for a cheesy feast, perhaps forego a charcuterie board and try out this new cheese bowl trend. At a party, you could even modify the bowl to serve it as a dip for your guests.