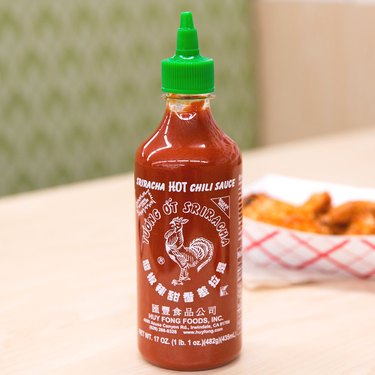 Ah, Sriracha — is there anything this chili sauce can't do? Well, perhaps. After having seen bottles of Sriracha being stored at room temperature in restaurants, we began to wonder: Should Sriracha actually be stored outside of the fridge?
"Sriracha can be stored in the fridge or the pantry," Isabel Maples, a nutritionist and registered dietitian with the Academy of Nutrition and Dietetics, tells Hunker. "The vinegar's acidity, and the pepper's active ingredient, capsicum, keeps Sriracha safe at room temperature. It does get darker in color over time, but refrigeration delays that process."
In fact, Maples explains that Huy Fong Foods, the iconic Sriracha brand, has a "best by" expiration date on its bottle for this reason. "In the pantry, an unopened bottle keeps its quality for up to two years" she says. "Once opened, if stored at room temperature, the manufacturer suggests that Sriracha's flavor is best for up to 6-9 months."
Amy C. Keating, a registered dietitian, nutritionist, and the program leader at Consumer Reports, also points us in the direction of the USDA's FoodKeeper App. It states that if they are shelf-stable, ketchup, cocktail, or chili sauces can be stored at room temperature after opening. However, if placed in the fridge, they will stay fresh for longer. This is a quality, not safety, concern.
Ultimately, you can feel safe storing your Sriracha at room temperature, but remember that the refrigerator will keep it tasting and looking fresh for longer.
---
When Anna Gragert isn't trying to create a groundbreaking third-person bio for herself, she's working as the senior lifestyle editor at Hunker. Her email: anna.gragert@hunker.com
View Work