By purchasing reusable towels, cloths, and napkins in place of paper towels, you no longer have to throw out and then re-buy paper towels. Instead, you can use a paper towel alternative, throw it in the wash, and reuse it without having to make another purchase. It's a win-win for the planet and your wallet.
To find the paper towel alternative that's right for you, we've listed our favorite options down below. To keep paper towels at bay for good, we recommend purchasing one cloth for each specific area of our home: kitchen countertops, the kitchen floor, the bathroom, your tables, and anywhere else you'd normally use paper towels.
This pack includes two microfiber cloths that were made for keeping your kitchen spotless. The cleaning cloth is for wiping up messes, while the glass and polishing cloth was designed to make your surfaces shine. Both are machine-washable and will last for 300 washes.
This reusable, biodegradable product is able to absorb 20 times its weight. It is also able to be cleaned in both the washing machine and the dishwasher.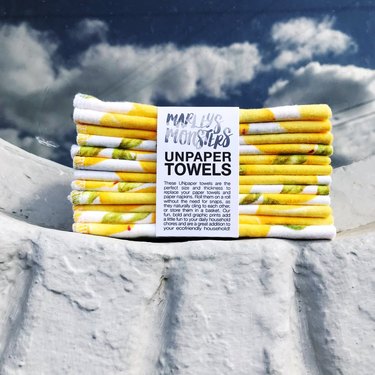 Made of 100% cotton flannel, these "unpaper" towels can be machine washed and dried. Plus, after a few washes, they will shrink enough to fit on an actual paper towel holder.
These machine-washable, 100% cotton napkins are meant to replace paper napkins and towels. They'll also look gorgeous as staple tableware.
Colored with natural plant dyes, these 100% cotton dish towels can be used for drying dishes, drying your hands, wiping up messes, and more.
If you'd prefer a separate towel for drying your hands, this chic jacquard hand towel will do the trick. It's also machine-washable and can be put in the dryer on a low setting.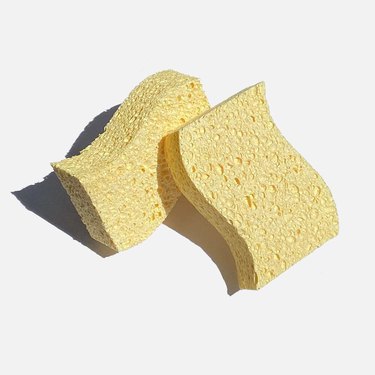 These biodegradable sponges are made from wood pulp and can absorb 10 times their weight. They can also be disinfected in the dishwasher and once you're done using them, the sponges can be composted.