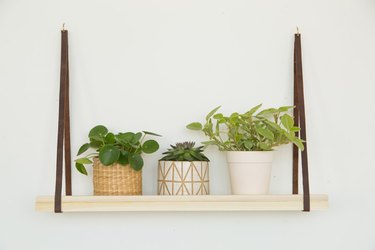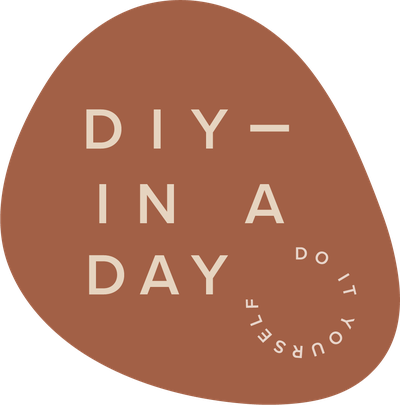 DIY in a Day brings you step-by-step instructions for easy projects that will spruce up your space — within 24 hours (or less!).
Here at Hunker, we ​love​ houseplants — it's a simple way to add color and texture to your home decor. This easy DIY project allows you to show off your green thumb by placing some potted houseplants in a small space. While we do love the look of a floating shelf (or even a hanging planter made from embroidery hoops), we decided to hang this cute DIY plant shelf from the wall by pairing some leather straps with pretty poplar wood boards. It's wall decor that won't break the bank.
This easy tutorial will help you create a shelf that is perfect for a bathroom, kitchen, or bedroom. Decorate it with some potted succulents or other favorite plants (such as a philodendron, a pothos, or a cute air plant) — it's a perfect way to add a beautiful touch to any space.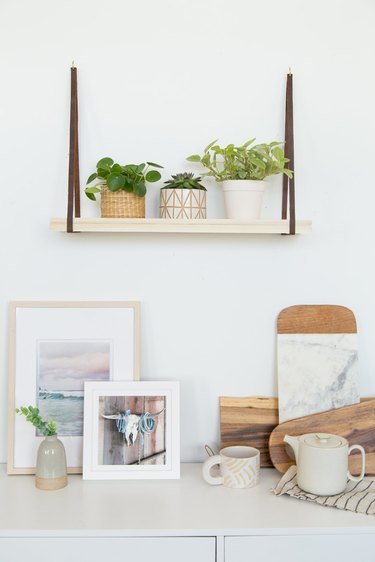 Step 1
Determine where to cut the shelf lip and then mark the cut with a pencil. Use a hand saw to cut the wood piece. (Or have your local hardware store cut it for you.)
Step 2
Use a sanding block to sand the edges of wood piece that you'll use for the shelf lip.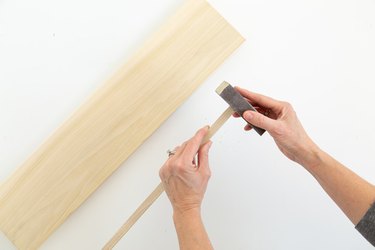 Step 3
Use the sanding block to sand the edges of the shelf.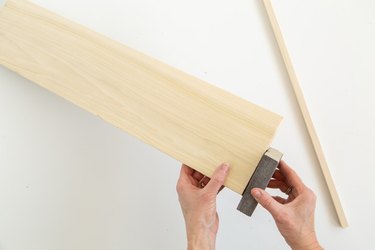 Step 4
Add wood glue to the front edge of the shelf. Adhere the dowel/lip.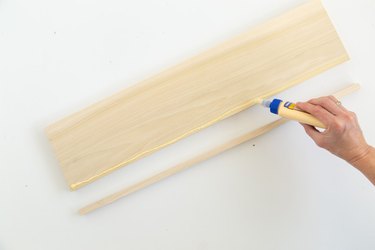 Step 5
Secure the dowel with a clamp and allow to dry. Wipe any excess wood glue from the shelf.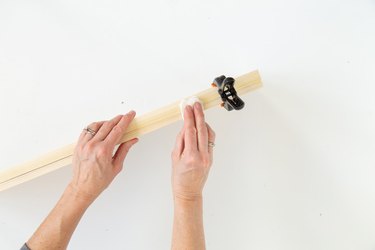 Step 6
Gather two pieces of the leather straps. Each strap should be 36 inches long. Using a leather hole punch, make holes in the ends of the leather straps. You will want the holes to be a bit larger than the wall hooks you use. You'll essentially create a loop of leather to hold each side of the wood shelf.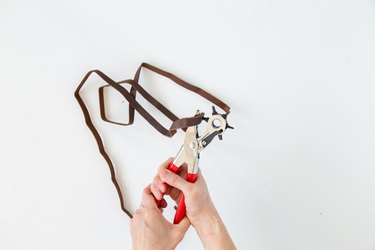 Step 7
Hang the hooks and straps on the wall. (No drill bits, no drilling holes necessary.) Slide the wood shelf into each loop of the leather straps. Your new minimalist hanging plant shelf is ready for some plant pots and greenery! It's like living wall art. Also, why not make two and use the other one as a hanging bookshelf for your living room or shelving for powder room items.
For other DIY projects like this, visit our DIY in a Day page and pick a tutorial that you can start ​and finish​ this weekend.