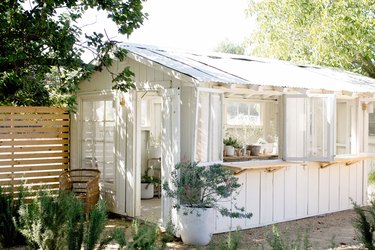 Homeownership means an ever-expanding arsenal of tools and backyard equipment, which means various types of sheds are necessary for storing yard and gardening tools when there's not enough space in the garage.
Although you may assume a shed is a shed, there are actually multiple types of these storage units. A lean-to offers space for a push mower and garden tools, while a plastic shed is often more like a storage locker for your outdoor gear and is light enough to move if necessary. Some sheds are so elaborate that they double as man caves, she-sheds or even a comfortable place to enjoy the quiet and work on your first novel.
The lean-to shed typically butts up against an existing structure, such as the side of a garage. These sheds are quite compact and are among the least expensive even with custom options. The roof is usually highest along the back wall that abuts another structure. Lean-to sheds generally range from 4 x 8 feet to 10 x 20 feet, although some premade versions run 3 x 5 feet or even less.
The door placement varies depending on the shed size and design, so shop around to find one with a door location and size that works for your intended use. For instance, if you're storing bikes or a lawn mower inside, you should have plenty of space to move the gear in and out without obstructions from trees or man-made structures.
A small lean-to is perfect for storing garden equipment and for tool storage, a push mower or even a bike or two when the garage itself has little free space. Thanks to the design, a lean-to even works well beneath a second-story balcony or deck overlooking the backyard. Much like other wooden sheds, a wood lean-to can be painted to match the home or garage exterior.
The smallest premade lean-to sheds are freestanding, allowing you to place them just about anywhere, such as along a fence line. This type is sometimes made of metal or even a durable, weather-resistant plastic or resin. The resin type is common for a garden shed, as it's too small for many other purposes. It typically comes with a space in the door handles for a padlock. This could be a good option if you rent a home, as the garden shed isn't a permanent structure, and it can be taken with you if you move.
The tiniest backyard sheds are designed to sit lower than the average 4-foot-high fence line. These can start at 4 feet tall and just a few feet deep, and they often have doors in the front as well as a lid that opens. Due to their small size, these resin prefab sheds are best for storing small items, such as plant pots, bags of topsoil, garden hoses and small garden tools. They also come in handy for storing lumber for the fireplace or fire pit.
Some slightly larger versions are designed specifically to house trash and recycling bins, keeping them out of sight and out of reach of pets, young children or even raccoons. Before purchasing, check the shed's interior dimensions to make sure your bins fit, as bin sizes vary from town to town. With any type of plastic shed, the interior dimensions may be quite a bit different than the exterior dimensions due to the thickness of the plastic.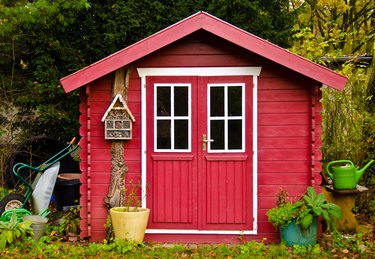 An A-frame, or gable, shed looks a lot like a simple miniature garage or house, similar in shape to a classic house drawing made by an elementary school child. The gabled roof may be front and center or positioned so the roof slopes to the front and back rather than from side to side. These types of sheds usually have a set of double doors that swing outward, offering plenty of outdoor storage for riding mowers and other large yard equipment. Some also have loft space for stashing items you may not need regularly, such as coolers, backpacks or plastic tarps.
The simplest A-frame sheds have no windows, while others have fixed windows, and the most elaborate have windows that open. Wood A-frame sheds can be painted to match your home or garage. In many cases, you won't need a permit for a shed smaller than 100 square feet, but it's always best to check your local regulations first. An elaborate she-shed with electricity may require various types of permits no matter where you live, and at the very least, the wiring must be up to code. If your A-frame shed is larger than 10 x 10 feet, as many are, you'll likely need a building permit before the shed goes up.
The classic red-barn shed style comes in handy when you need extra head room. These sheds, also called Dutch barn or gambrel roof sheds, offer plenty of room to add a sizable storage loft for items seldom needed. There's also space to install shelving high off the ground for fertilizers and other items that must be kept away from children or pets. Most barn-style sheds have at least 6 feet of standing room inside at the lowest point. Even the most basic models are typically outfitted with a set of double doors, making it easy to move wide objects through as needed.
Shed companies offer plenty of customization options for this style, such as windows, an extra set of doors on another side of the shed or even an additional story, which is perfect for a guest room or a place to paint your next masterpiece. Sizes and options vary greatly from one gambrel-roof storage shed to the next, even among custom shed companies. When shopping for a barn-style shed, make sure the price includes a floor, ramp and roofing materials, as some companies may charge extra for every feature.
The standard sizes for a barn-style shed vary from one company to the next. The average wood or metal ones offered at home improvement stores average around 8 x10 feet, although smaller and much larger sizes are available, especially if they are custom built. If you're planning to store a motorcycle, golf cart or several bikes along with the usual yard equipment, you'll need at least a 10 x 12-foot shed.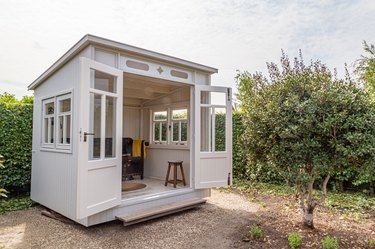 A studio shed is among the most expensive for its size, as it's the most finished and elaborate among shed types. These look like anything from a miniature ski lodge or cabin to a cottage with decorative shingles or even a modern home. These types of sheds may vary a bit in the outer structure shape, but they generally all have a finished interior that can be used as a livable space. The studio shed is the perfect backyard oasis whether you are using it as a man cave, she-shed, home office or even a small music studio.
Studio sheds usually start at 8 x 10 feet, offering at least enough space for a desk or a sofa or room to work out. They may have loads of windows or an entire glass front, as the options for this type of shed are plentiful. Studio sheds are available as shed kits that homeowners can DIY or they may be built on-site by a contractor. In any case, a studio shed is designed to be a permanent structure, so check with your local building and zoning departments before investing in this costly structure. It should also be noted that Studio Shed is the name of a company that makes elaborate sheds.
Floor Surface Considerations for Garden Sheds
The floor is another consideration for your storage shed. Typical prefab units and small or medium outdoor storage sheds may have plastic, metal or plywood flooring, while the most elaborate, larger structures often require a concrete slab. If you are building a large shed to hold a heavy lawn tractor, a slab floor is a wise choice. Some locales even require a slab floor for any freestanding structure that's relatively large or that could be considered permanent according to local building codes.
Read the foundation and floor recommendations offered by the shed manufacturer or construction company before deciding on any large or medium-sized shed, and check with your local building and zoning departments to ensure your structure follows local regulations.