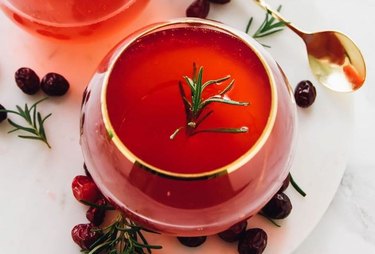 You better believe we're excited to say goodbye to 2020 and hello to 2021 this New Year's Eve. After everything that's transpired this year, we could all use a fresh start. To help you celebrate and ring in the New Year the right way, we've curated a list of cocktails and non-alcoholic drinks that were made for a spirited "Cheers!" on New Year's Eve.
1. A Tipsy Giraffe Shimmery New Year's Eve Cocktail
This sparkly cocktail is made with grape syrup, champagne, and gold luster dust, and sounds exactly like what we want to be cheers-ing with when the clock strikes midnight.
2. Muy Bueno Cooking Pomegranate Margarita
This margarita looks as fresh, bright, and colorful as we want our future to be. "The combination of pomegranate juice and freshly squeezed orange juice shaken with a couple of fragrant cloves, agave nectar, and tequila is beyond magical," writes Yvette, the creator. We're sold.
3. Flippin' Delicious Gluten-Free, Dairy-Free Funfetti Martini
Looking for a drink that's a party in a glass? Well, this funfetti martini will not disappoint. We also love that it's both gluten-free and dairy-free, covering all bases.
4. Sugar & Soul Champagne Shirley Temple
You can never go wrong with a classic champagne cocktail on New Year's Eve. In addition to champagne, this beauty is filled with grenadine and topped with maraschino cherries and an orange slice.
5. Kawaling Pinoy Tsokolate de Batirol (Filipino Hot Chocolate)
"Made of tablea cacao, milk, and peanut butter, this Filipino hot chocolate drink is creamy and decadent," writes creator Lalaine Manalo. Sounds like the perfect New Year's Eve drink for adults and children alike.
6. A Flavor Journal Blackberry, Sage, and Grapefruit Mocktail
Blackberries, sage, and grapefruit? There's no way you could go wrong with this combo, which is sweet, tart, and herbal, while also being perfect for an Instagram photo op. Plus, it's alcohol-free! (But of course, you can add a shot of whatever to make it a grown-up beverage.)
7. Jessica in the Kitchen Winter Cranberry Gin Fizz Cocktail
Cranberry, rosemary, gin, and ginger beer combine to create a cocktail that we're already drooling over. This sounds like a wintertime dream.