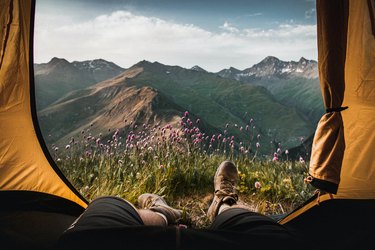 If you're planning on taking a camping trip this year, odds are that you want to maximize your downtime in nature. An easy way to do so is by choosing no-cook camping recipes that require minimal effort and heat (perfect for camping in a hot climate).
1. Jessica in the Kitchen's Banana Bread Overnight Oats
There is nothing better than waking up and having breakfast ready for you to eat. For this recipe, you just add the ingredients in a jar, place them in a fridge or cooler, and enjoy them the next morning.
2. Kristine's Kitchen's Easy Chicken Salad
While this recipe does call for cooked chicken, you can replace that with pre-cooked chicken (such as canned or rotisserie). Then, all you have to do is stir the ingredients together. You can serve the salad on bread, with crackers, or in a lettuce wrap — use whatever works for you!
3. The Simple Veganista's Hummus Veggie Wraps
With hummus, sliced veggies, and a wrap-friendly bread (like lavash or a tortilla), you can make this meal in less than 10 minutes. Plus, if you have access to a cooler, you can store them for up to three days in a covered container.
4. Muy Bueno's No-Cook Taco Salad with Tortilla Bowls
Who doesn't love the delicious simplicity of a taco salad? While Muy Bueno's tortilla bowls do require baking ahead of time, you can just add crushed-up tortilla chips to the salad itself.
5. Life As A Strawberry's Cheese Plate
One of the best things about a cheese plate is that you can customize it to fit your personal tastes. Fortunately, Life As A Strawberry's recipe includes step-by-step instructions that will guide you on your campsite cheese plate journey.
6. Goodcook's No-Cook Nachos
Is there anything better than sharing a plate of loaded nachos? Turns out, there is — not having to cook those nachos. For this recipe, all you have to do is layer your chips with your favorite toppings and chow down.
7. Cookin' with Mima's Easy Fruit Salad
Once you find a fruit salad recipe that you love, you can eat it for breakfast, as a snack, or as a fun dessert (don't forget the chocolate dip!). Plus, this Cookin' with Mima recipe includes a fruit salad dressing made from orange juice, honey, and orange blossom water. We're drooling.