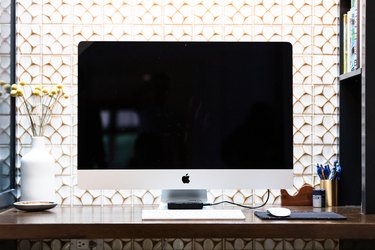 Squeaky is all about the borderline genius hacks and ideas that keep literally every inch of your space pristine.
Computer screens can get dirty very easily, and so they should be cleaned often. However, be really careful when cleaning them. While over-the-counter glass cleaners seem like they would be a good option, they can unfortunately wreak havoc on your screen and can remove protective coatings. Here's a quick solution on how to easily and safely clean a computer screen.
Step 1: Unplug your computer or monitor.
To be safe, turn off your computer or monitor. It also makes seeing smudges and debris much easier when the screen is black — and, it will also help to ensure that you don't cause damage to the pixels in your screen.
Step 2: Wipe your screen off with a clean microfiber cloth.
Gently wipe any dust, debris, and smudges off of your screen with the microfiber cloth. Microfiber is safest for screens and helps pull dust away naturally without scratching.
Step 3: Clean your screen with a dampened microfiber cloth.
Lightly spray distilled water onto a microfiber cloth, making sure it is only slightly damp, and then wipe your computer screen clean.
WARNING: Never spray any wet substance directly onto your computer screen or monitor. Wetness can seep into the screen and cause major damage.
Step 4: Dry your screen.
Use a clean, dry microfiber cloth to gently wipe your computer screen off making sure that it is completely dry and dust free.