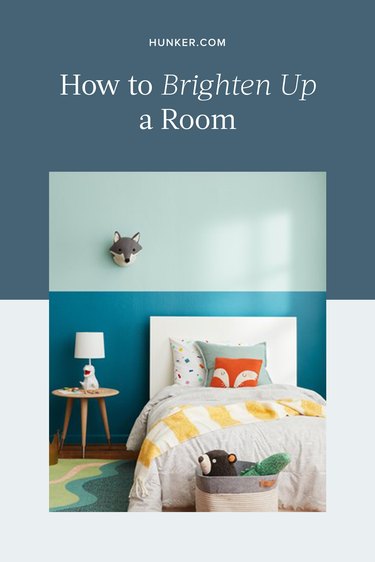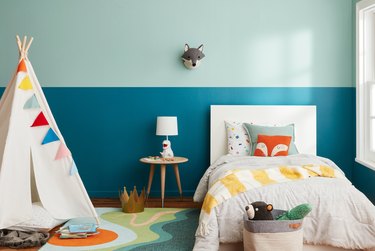 Ask any interior designer and they'll tell you the same: Good lighting is essential in any size of space. Unfortunately, not all rooms are created equally when it comes to windows and natural lighting.
Luckily, interior designer and founder of paint company Clare, Nicole Gibbons, says the right paint color can work wonders for making a dark room appear brighter. We asked her for advice about how to fake a sunnier space with paint, and here's what she had to share.
Gibbons says the size of the room is important to take into account when selecting a paint color. "If the space doesn't receive much light and is small, I'd opt for an airy neutral such as an off white or a very pale greige which will not only make a dimly lit space feel brighter, it will also help bounce around what little natural light is available in the space, which will make the small space feel larger," she explains. "If the space is larger and more open, try a more vibrant color on the walls, such as Headspace, a beautiful blue-green hue that brings a hint of energy to the room yet has a relaxed, calming vibe."
"Bright, airy colors will reflect more light and help open up a room," Gibbons says. "I love using light and airy shades, such as a warm off-white like Timeless or a pale shade of greige like Penthouse, to help create a feeling of openness in a room. Plus, lighter colors will help maximize what little natural light the room has. Instead of white, which might feel like a cop-out, opt for a shade with a subtle hint of color to give the space some personality and warmth."
When it comes to choosing a finish, Gibbons recommends going for one with a barely-there sheen that adds depth and dimension to the walls while hiding imperfections. "Avoid higher sheens in a space with little natural light, because when you have artificial lights on in your space, you'll see an unsightly halo-like glare wherever there is light," she explains.
While Gibbons says there isn't an exact paint trick for rolling paint onto your walls in a way that will enhance light, she does say a smooth finish will make a big difference when it comes to ambience. "When painting walls, no matter what, always aim for a very even, uniform finish," she says.
5. Don't forget the ceiling.
Gibbons says a little ceiling paint can go a long way when designing a room that's lacking in the natural light department. "My best paint tip is don't forget the ceiling," she says. "The ceiling is considered the fifth wall and is a surface that is often overlooked. Re-painting your ceiling a crisp bright white can do wonders for opening up a space. White will reflect more light and ensure that everything else in the room looks brighter, too."