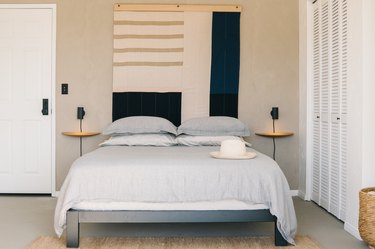 Let's face it — we could all use a little extra calm in our daily routines. We wake up to busy mornings that become busy days and end in busy evenings. So the least we can do is decorate our most frequented spaces with some relaxing, calming colors. Be it in your bedroom, your bathroom, or even your breakfast nook, incorporating tranquil shades will balance out the energy in the most important transition spaces. Plus, it'll help you start and end the day on the right foot, both emotionally and aesthetically.
Calming colors come in many hues, but with a little bit of searching, you can find the perfect one. Whether you're a lover of blues and pastels or find that earthy tones are more your speed, here are seven serene palettes that are sure to soothe.
1. Keep it neutral.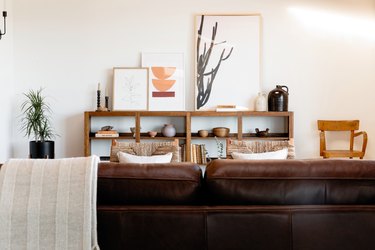 Natural browns might just be some of the most luxurious and relaxing tones you can incorporate into your space. And when you put a couple of them together, you're bound to find yourself enveloped in comfort. This modern boho living room absolutely hits the mark with a calming color palette made up of neutral hues that work together.
2. Add a pop of pastel.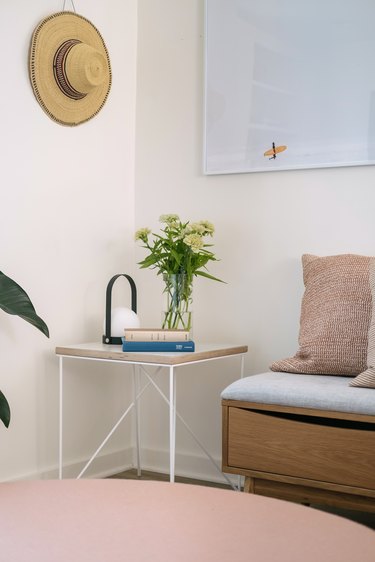 A little pastel can go a long way, especially when you're trying to soothe the energy in an otherwise hectic space. Take a living or dining room — piece of pastel blue art or a sweet pink table in one of these areas will be sure to set the right tone. Regardless of the other furniture or decor you might be working with, these subtle shades will mix in a little mellow.
3. Incorporate a blue hue.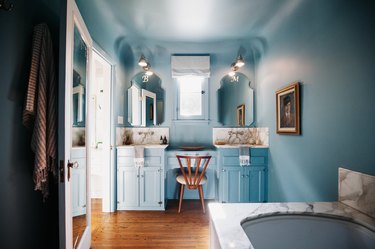 There's just something about blue shades that can immediately make any room feel weightless. So, if you're trying to find a way to lighten up a space and add a little extra calm, try out this classic hue. And while it may feel intimidating at first to paint both the walls and ceiling, you won't regret the color wash. In this bathroom, for example, the aquamarine tones wrap you up as if you're floating on a cloud.
4. Don't forget about soft white shades.
We occasionally like to keep it simple — both in life and decor. And that's why sleek white palettes are really unbeatable when it comes to choosing calming colors for your space. They create the perfect blank slate. And when paired with midcentury modern wood furniture in a bedroom, white shades will add a breath of fresh air that you'll never want to leave.
5. Strike a balance with tan.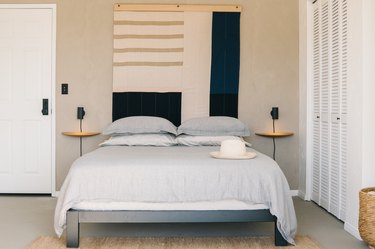 Tan or beige rooms don't have to be boring or lacking in personality. We recommend going with this neutral tone on the walls and incorporating a single piece of art or furniture that brings a little weight to your airy space. In this bedroom, the combination of simple earth tones with the geometric wall hanging pulls everything together without adding any heaviness.
6. Go gray all the way.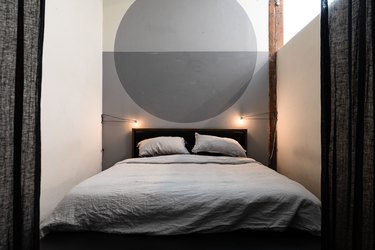 Whether you're working with a large or small space, gray tones can offer a whole lot more than meets the eye. Not only is the moody shade the perfect visual balance between black and white, it is also a wonderful emotional balance, too. Put together a few soft grays, and you can achieve the perfect calming color palette in any room.
7. Coat the walls with green.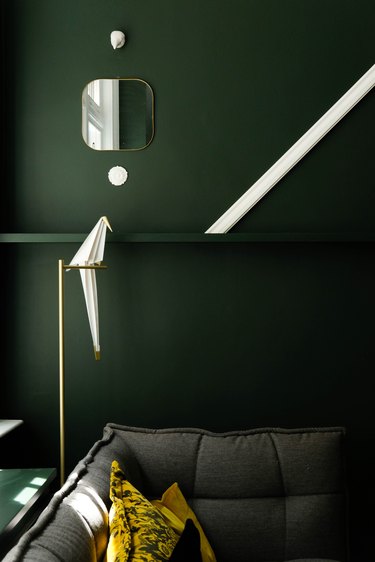 Face it — nature knows her good side. So, incorporating just about any nature-inspired color, from beige to forest green, is guaranteed to give you the gift of calm you've been looking for. And if a deep verdant hue like the one in this living room feels a bit heavy, consider pairing it with some luxuriously fluffy pillows and a lighter-toned sofa so you can sink in.