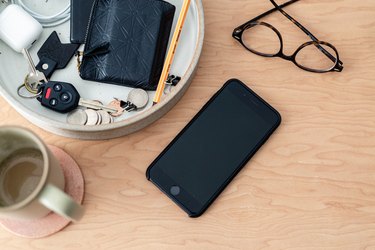 Squeaky is all about the borderline genius hacks and ideas that keep literally every inch of your space pristine.
Between our hands, our faces, and common surfaces — such as a bathroom countertops — our phones are breeding grounds for bacteria. Disinfecting your phone is extremely important, but you have to be careful when cleaning it — you don't want to cause any damage. Below, we have two alternate methods that'll show you how to easily disinfect a phone. And, it works on tablets too.
Disinfect Your Phone With Disinfectant Wipes
Cleaning your phone with an alcohol-based disinfectant is the safest and easiest way to remove any germs or bacteria without causing moisture damage. While you can buy disinfectant wipes, occasionally they may be hard to find. It's just as easy to make your own wipes or spray.
Your homemade disinfecting solution should contain at least 70% strength isopropyl alcohol. If you decide to follow the disinfecting wipes DIY, below, the wipes should be moist to the touch, but not dripping wet when you use them. Or, if you prefer, try making the disinfecting spray. Both are equally effective.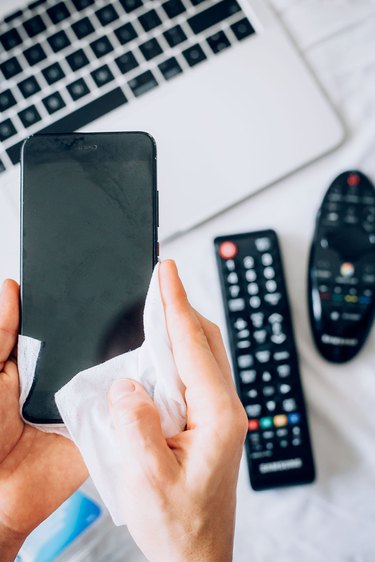 DIY Disinfecting Wipes for Phones
To make the disinfecting wipes, add the isopropyl alcohol and water to the plastic baggie. Cut the paper towels in half and place them in the baggie. Seal the baggie tight and shake well. To use, remove a wipe and squeeze dry. Completely wipe down your phone with the disinfectant wipe.
DIY Disinfecting Spray for Phones
To make the disinfecting spray, add the isopropyl alcohol and water to a clean spray bottle and replace the lid. Shake well before each use. To clean your phone, spray the disinfecting spray onto the microfiber cleaning cloth and use the cloth to wipe down your entire phone.
WARNING: Never spray the disinfecting spray directly onto your phone. It can cause major moisture damage.