With packaged hand sanitizer being virtually nonexistent because of the current coronavirus pandemic, we recently came up with a recipe for making DIY hand sanitizer at home. Though washing your hands with soap and water is always best, if you are in a pinch and don't have water and soap available, our hand sanitizer featuring 99% isopropyl (or rubbing alcohol), aloe vera, and essential oil can be useful. But what happens if you're also unable to find ingredients such as rubbing alcohol and aloe vera gel?
"I used to make my own [hand sanitizer] based on my mother's recipe from when she was nursing," microbiologist Jason Tetro, author of The Germ Code, tells Hunker. "It's rubbing alcohol and 10% glycerin. If you can't find the rubbing alcohol, then you may want to look for grain alcohol at 150 proof or higher and then dilute in water or glycerin to make sure it's 62%."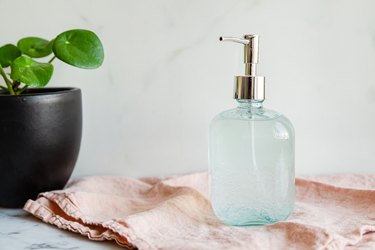 Glycerin is a colorless liquid that one can find in many cosmetic products, especially since it can act as a moisturizer. It can also easily be bought on Amazon. Grain alcohol, on the other hand, is a form of ethanol (which can be found in some rubbing alcohols) and would have to be purchased at a local grocery store or liquor retailer by someone who is 21+ years old. Note: Drinking the substance is dangerous due to its potency.
"Washing your hands is still absolutely best if you have a sink, soap, and water," Tetro confirms. If you don't have water, soap can help at least temporarily.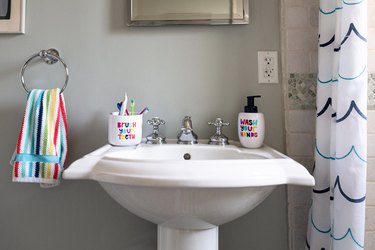 "There is a benefit in that the soap will kill the virus," he states. "You always want to rinse if you can, but if there is no option, just get that surfactant on there so you can be safe." Tetro recommends using just soap and wiping it off with a towel over trying a non-alcohol based sanitizer.
Ultimately, you should focus on using soap and water to both clean and disinfect your hands. You can see more information on hand washing from the CDC here.