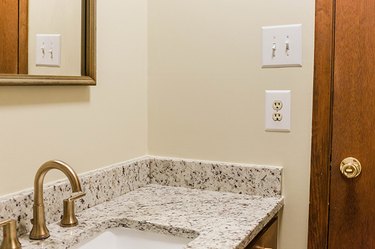 If you've heard handy folks or contractors talk about "code" and wondered what it means, you're about to learn that now. And if you're planning a bathroom remodel, you'll definitely want to know about bathroom electrical code whether you'll do some of the work yourself or you'll be hiring a contractor.
"Code" refers to the building code and its subcategories: electrical, plumbing, HVAC, etc. You can think of bathroom electrical code as a set of rules that governs how you install the lights, switches, electrical outlets, vent fan, and other electrical essentials in the bathroom.
So, let's take a not-too-deep dive into bathroom electrical code and what it might mean for your bathroom remodel.
What Is Bathroom Electrical Code?
To many people, the "code" is like the Wizard of Oz: a mysterious and unyielding force that must be appeased in order to get what you want. And like the Wizard, the code is a lot less scary once you see behind the curtain. In reality, the code is nothing more than a set of recommendations and guidelines designed to maximize safety.
Electrical code rules, whether they pertain to the bathroom or any other part of the house, are generally based on the recommendations of the National Electrical Code, or NEC, a big, technical book of electrical installation guidelines that gets updated every three years, most recently in 2023. But the NEC is just a reference book. What matters for your project are the laws or code rules enforced by your city's building department, officially known as the authority having jurisdiction, or AHJ.
Most AHJs follow the NEC closely, but they have the authority to alter, omit, or add to NEC requirements when making their own code rules. It's also worth noting that building departments often take a while (sometimes several years) to revise their own codes to reflect NEC updates. It's not uncommon for a contractor to exceed the local code and conform to the NEC with the expectation that the local code will soon do the same.
Almost any type of electrical work requires a permit. This means the work must be inspected and approved by a city electrical inspector. The inspector's job is to make sure the work meets or exceeds the minimum requirements of the local electrical code. The inspector and the building department are also the best places to get answers specific to your project.
Basic Bathroom Electrical Code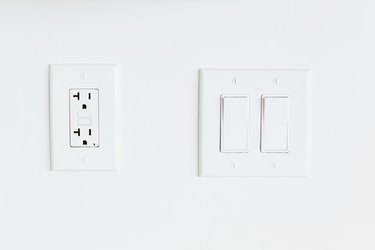 You can think of code requirements like this: If you install X, you need to do X. For example, if you want to add a light above your shower, you have to use a light fixture that's rated for the shower environment. Fortunately, as complex as a major bathroom remodel can be, bathroom electrical code requirements aren't all that complicated. Here are the basic bathroom electrical rules you need to know.
Bathroom Electrical Circuits
A bathroom must get power from one or more bathroom circuits. There are two basic scenarios (but these aren't the only options):
A single 120-volt, 20-amp (ampere) circuit supplies power to all receptacles (power outlets), lighting, and vent fan(s) in the bathroom, provided the combined amperage draw of the devices does not exceed the safe capacity of the circuit. This circuit can be used for only one bathroom and no other rooms.
One 120-volt, 20-amp circuit supplies power to the bathroom receptacles. This circuit can also power receptacles in one or more additional bathrooms, but it cannot power anything else. A second 120-volt, 15- or 20-amp circuit provides power to the lights and vent fan(s) in the bathroom. This circuit can also serve lighting and fans (not receptacles) in other bathrooms or lighting and receptacles in some other rooms, such as bedrooms and living spaces.
Tip
If the bathroom contains a fan unit with a heater or heat lamp(s), it most likely will need its own 20-amp circuit for power. An in-wall heater or other high-demand heating unit may need to be on its own 240-volt circuit.
Bathroom Lighting Code Requirements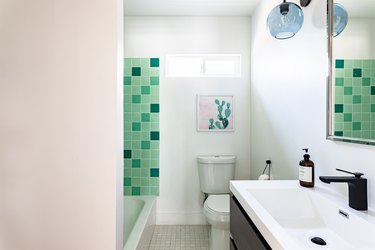 A bathroom must have at least one hardwired (not plug-in) light fixture powered by a wall switch that is located near the room's entrance. The fixture can be mounted on the ceiling or on a wall, and it can be part of a vent fan unit.
In addition to this basic minimum lighting requirement, there are a few restrictions that apply to lights and other fixtures located in the "bathing zone" — an area including the shower or bathtub space and extending 3 feet horizontally and 8 feet vertically from the shower base threshold or bathtub rim. Within the bathing zone:
Hanging lights, track lighting, cord-connected fixtures, and paddle fans (ceiling fans) are not permitted.

Light fixtures located directly above a shower stall or bathtub must carry a rating of "wet location" if the fixture is subject to shower spray. If it is not subject to shower spray, it must carry a minimum rating of "damp location" (wet location works here too).
Bathroom Exhaust Fan Rules
The NEC is primarily concerned with bathroom vent fan (exhaust fan) wiring. As noted, a fan can be powered by a single 20-amp circuit supplying the entire bathroom, a separate 15- or 20-amp lighting circuit, or a 20-amp circuit dedicated to feeding the fan alone (if the unit contains a heater or heat lamp). When it comes to fan sizing and installation requirements, those fall under the International Residential Code, not the NEC. Here are the basics:
A bathroom must have a window that opens to the outdoors or an exhaust fan with a minimum airflow rating of 50 cfm (cubic feet per minute).

Bathroom exhaust fans must ventilate to the outdoors and may be subject to additional ducting requirements.

Fans in the bathing zone must be GFCI-protected.
Tip
A vent fan provides for air exchange, which is pulling in fresh air and exhausting stale or moist air. The fresh air is called makeup air. If you run the fan with the bathroom door closed, the makeup air is restricted, and the fan can't do its job effectively. The bathroom airs out quicker if you run the fan and leave the door slightly ajar. But if the fan is on when the door has to be closed (like when you're showering), having a gap at the bottom of the door provides an avenue for makeup air. This gap should be at least 3/8 inch from the door to the floor.
Bathroom Receptacle Outlet Requirements
One of the most important requirements of bathroom electrical code is GFCI (ground-fault circuit-interrupter) protection, which minimizes the risk of electric shock. Since we use a lot of electrical gizmos in bathrooms and there's a lot of water around, shock protection is critical.
As a minimum, a bathroom must have one 20-amp receptacle within 3 feet of each sink basin. For double-sink vanities, a single receptacle can satisfy this requirement if it is within 3 feet of both basins.

All bathroom outlets must be 20-amp and must be GFCI-protected.

GFCI protection for receptacles can be provided by a GFCI circuit breaker or by a GFCI receptacle located in the bathroom.
Do Bathrooms Need AFCI Protection?
AFCI (arc-fault circuit-interrupter) protection helps prevent house fires and is required for most household circuits. In the 2023 NEC, circuits supplying bathrooms alone do not need AFCI protection. However, if the light or fan in a bathroom is powered by a circuit that also serves other rooms (such as a bedroom or living room), AFCI protection is required. Note that this applies to bathrooms in dwelling units (homes); there are different rules for bathrooms in other types of housing, such as dormitories.
Going Beyond Bathroom Electrical Code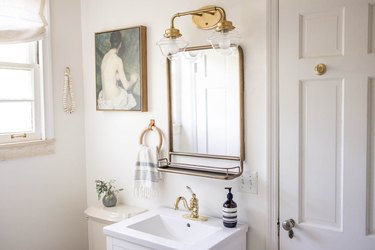 Here are a few areas where electricians and bathroom designers recommend going beyond the basic code requirements to make a bathroom brighter, more inviting, and higher-functioning.
Improving on Bathroom Electrical Code
| Area | Minimum Code Requirement | Going Beyond the Code |
| --- | --- | --- |
| Lighting | One switch-controlled fixture | Multiple light fixtures, including ceiling lights, wall sconces for the vanity mirror, shower/bath lighting, accent lighting, dimmer light switches for some lights |
| Ventilation | 50-cfm fan | At least 10 cfm for every square foot of floor space; additional fan for large or enclosed shower/bathing area; separate switches for fan/light/heat; humidistat or timer switch for fan |
| Receptacles | One receptacle within 3 feet of each sink basin | Receptacles conveniently located for each bathroom user or common uses; receptacle for plug-in toilet seat; dedicated circuit for each receptacle in very busy bathrooms |
| Heaters | Heating appliance not required by code | Dedicated 120- or 240-volt circuit for hardwiring an in-wall heater or in-floor heating |
What Is Changing in 2023 for Bathroom Electrical Code?
There are two notable changes to NEC code recommendations for bathrooms in the 2023 edition, and both involve receptacle placement.
When it comes to receptacles, the bathing zone that pertains to bathroom lighting requirements is extended to include the wall area between the tub rim or shower threshold and the floor. You wouldn't put lighting in that area anyway, but the 2023 NEC specifies that you can't put receptacles there even if you wanted to. There is an exception for very small bathrooms that allows for receptacles on the wall farthest from and opposite to the bathtub or shower, even when this wall is within 3 feet (measured horizontally) of the tub or shower.
The second bathroom code change for 2023 concerns receptacles for plug-in electronic toilet seats or bidet seats. You can install a receptacle near the toilet for this use, but it must be in a convenient and accessible location for the device it is serving, and it cannot be installed in an area between the toilet and a tub or shower.
Tips From a Bathroom Remodeler
In my own house, I recently turned a single needlessly large bathroom into a much more functional 1/2 bath and separate 3/4 bath. I redid all the wiring for code compliance and safety (the old stuff was in pretty bad shape). The 1/2 bath has one receptacle, two light fixtures, and a vent fan; the 3/4 bath has two receptacles, a few lights, and a fan. There are no heaters or other high-demand devices, so a single 20-amp circuit carries more than enough capacity for each bathroom.
I chose to install a new home-run branch circuit for each of the new bathrooms, meaning each separate circuit has its own breaker. Alternatively, I could have run one 20-amp circuit to supply all of the receptacles in both bathrooms and tapped into an existing 15-amp circuit for the lights and fans. But the extra effort and materials of running two new circuits really paid off, as it allowed me to shut off the power to each room without disrupting any other circuits. This came in handy over the long remodel process of many nights and weekends. Also, having no more than two receptacles on each circuit (instead of three on one circuit) reduces the chances of overloading a circuit and popping a breaker.