Who: Emma Tuccillo
Where: Hastings-on-Hudson, New York
Style: Barnhouse chic
When your style icon is your very own 94-year-old "Nan," grandma chic takes on a whole new meaning. For Emma Tuccillo, founder of And North, a travel guide and events business for Upstate New York, it means a home full of vintage treasures from her Nan's old place in New Jersey.
"I am very lucky to have inherited my sense of style and many pieces of furniture from my muse," says Tuccillo. "She taught me how to create a joyful space and to think about timelessness."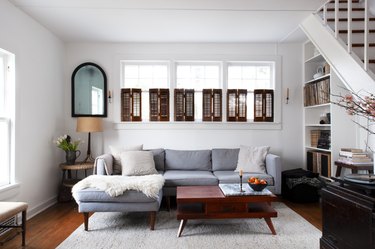 You can find evidence of Nan's style throughout the home. There are the wooden shutters that sit in the living room windows. ("They are so unique and unexpected yet they also look like they've always been there," says Tucillo. "They add history and texture and filter the light beautifully.") The 40-year-old Arthur Umanoff dining room chairs, which Tuccillo calls her "most prized possessions." A pewter vase in the bookshelves. And a beautiful antique cabinet at the bottom of the stairs, with a secret top compartment that was once used to heat tea pots.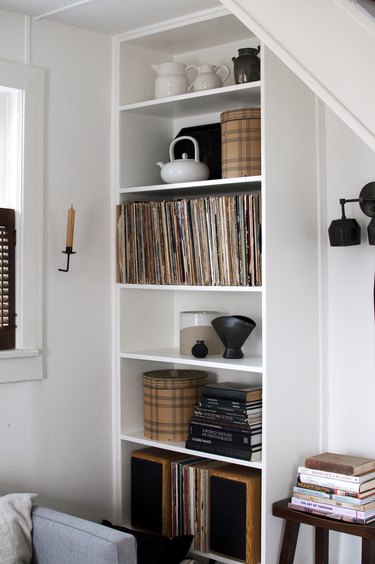 You can feel Nan, too, in other choices throughout. Candlesticks and servingware, on full display in a large shelving unit made of metal and reclaimed barn wood. The painted black dining table with wrought iron legs. Both pieces are from a favorite of Tuccillo's, Bogwater Jim Antiques in Lafayette, New Jersey.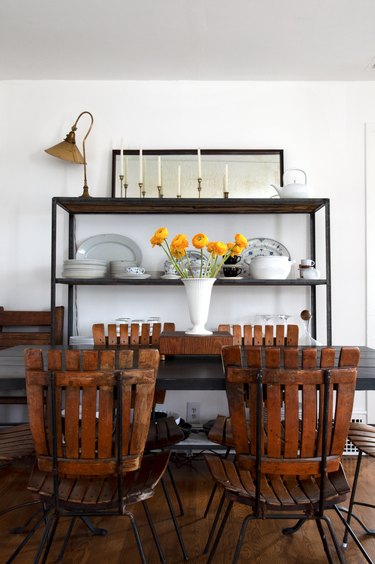 Tuccillo hadn't always planned to move back to Hastings-on-Hudson, where she and her boyfriend Nick Speranza both grew up. "I think it's a testament to the town that we decided to move back after many years and put down some roots here," she says. It's still just a 35-minute train ride to Grand Central Station, so they feel connected to work and play. (Speranza is the wine buyer for Eataly Vino NYC). But the history called her. "We went from living in a tiny Queens studio to a 1700s barn with river views," she says. "It was a dream."
That was two and a half years ago. Since then, Nan moved into a charming studio nearby.
Now, Tuccillo runs And North from home, looking out toward the Hudson river, often with a pot of tea brewing. "It is such a calm space and when I look around, I see all of my most beloved treasures."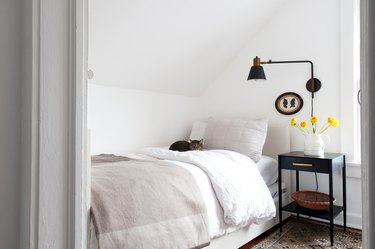 "I had always dreamt of having a small historic house with outdoor space, so it felt like I had won the lottery when I stumbled upon it," says Tuccillo. The cottage is just 750 square feet, with two bedrooms upstairs. All bedding is by Parachute Home.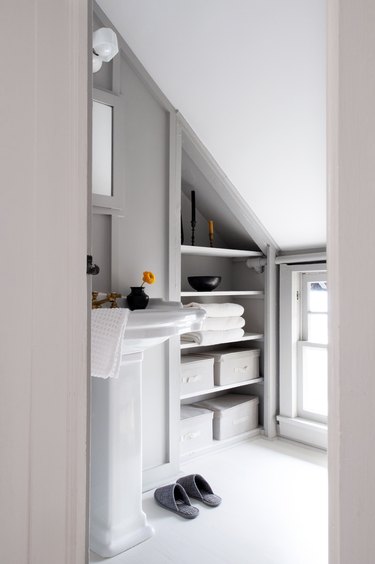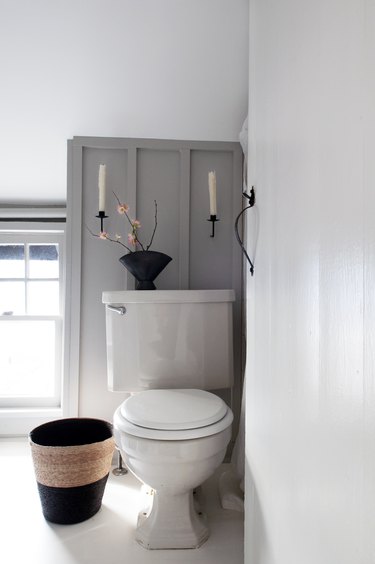 The bathroom is the only room Tuccillo and Speranza renovated. "The bathroom is very small, only 40 square feet," explains Tuccillo. The work entailed removing tile, replacing the floors with hardwood, installing a sink, medicine cabinet, and wall paneling, and painting, all of which took about eight days. They used Farrow & Ball Pavilion Grey for the walls and All White for the floor,s and had a custom vanity made on Etsy. The pedestal sink and light fixtures are from Rejuvenation.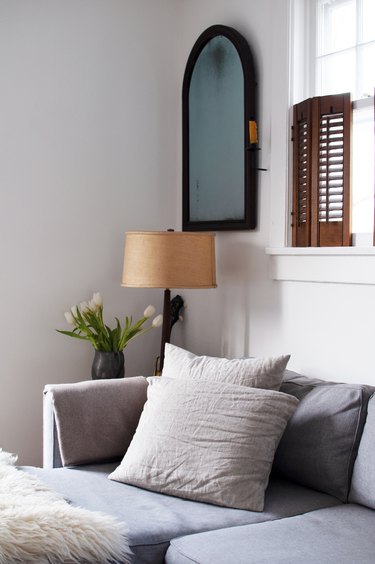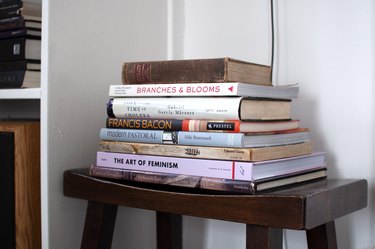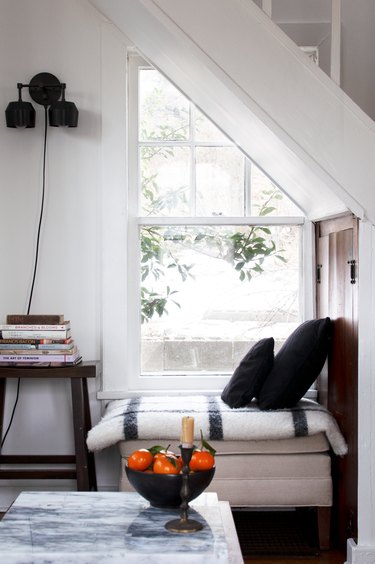 The overall feel of the space is timeless and spare, antiques commingling effortlessly with new pieces from West Elm. "When considering a piece of furniture, I ask, 'Will I still love this piece in 30 years? Does it feel too of-the-moment?' I find that if I spend time asking myself these questions, I will end up with a piece that is forever," Tuccillo says.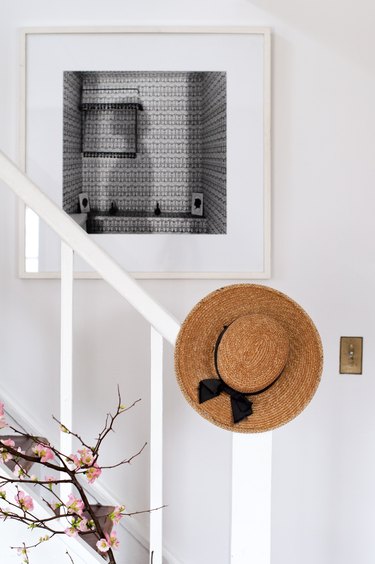 Locals Know Best
Favorite piece of design or architecture in your neighborhood, town, or city... "The Old Croton Aqueduct Trail is right up the street and from there, you can stroll under canopies of trees and gaze at the river and all of the beautiful homes. My favorite is right up the street, a wild stone house that once belonged to the owner of the NYC Ballet. Half of it is boarded up but it has remarkable details and also feels shrouded in mystery."
Best places for thrift store finds, antiques, or flea markets... "My favorite vintage store is called Bogwater Jim in Lafayette, New Jersey. I also love to go to Downtown Antiques in Accord, New York (only open on Sundays)."
Best farmers' market... "Hastings has the most wonderful farmers' market on Saturdays (spring to fall). It overlooks the river and has an amazing selection of produce, flowers, and prepared foods. My dad is a musician and you can often find his band serenading the market, which I just love."
Best happy hour... "Bread and Brine in Hastings has a great happy hour. Think oysters and sparkling rosé."
Best cheap and cheerful restaurant... "Love this question! I would go with Taco Project in Yonkers. Can't beat a good taco, and their vibe is very joyful."
Best place to experience art and culture... "Untermyer Gardens in Yonkers is a best kept secret. Incredibly restored stonewalled Persian gardens that are open and free to the public. Depending on the time of year, you can find fields of daffodils, hundreds of tulips, a restored waterfall covered in moss, and two epic Copper Beech trees at the entrance. I can walk or bike there from my house, which is a dream in warmer weather. In the summer, they have dance and theater performances on the lawn."
Best coffee shop... "Wild Culture in Hastings is actually an incredible waffle shop that happens to serve up the most delicious coffee from Oslo in Brooklyn. Go in the spring, grab a mini waffle and a cortado and sit in the mews garden."
If I were to have visitors, I would take them to... "For the full Hastings experience, I would likely walk with them on the aqueduct to town and eat at Saint George Bistro, an amazing French restaurant by the train station. If it's a Saturday, I would definitely stop at the farmers' market on the way and grab flowers and ingredients for a dinner on our lawn."
---
Laura Lambert is a Los Angeles-based writer and editor who covers lifestyle, design, and women's health.
View Work