Have you caught the spring style refresh itch yet? Like clockwork, in the early months of the year when spring cleaning starts to be the phrase on everyone's lips, we head in a different direction — full-on home makeover mode. (It's a compulsion.) Plus, it doesn't help that we have more time than ever to get lost in Pinterest brainstorms and binge HGTV.
Now that we're a few months into 2020, we started wondering: What are the biggest kitchen design trends starting to reveal themselves this year? Are blue kitchen islands an early frontrunner? Will open shelving and tuxedo cabinets — trends we adore, to be honest — keep going strong in 2020? We caught up with some of our favorite pro designers from Decorist to get their predictions for the year ahead in kitchen trends ... and to ask them what we should focus our remodels on this spring.
1. Put on Your Hosting Hat
"2020 is all about entertaining," according to Jenny Magdol and Steffie Oehm of Alter Interiors. "A built-in bench is space-saving and offers an opportunity to add a soft surface, which adds a level of coziness," the duo says. But don't just consider the "flashier" aspects of hosting company — be thoughtful about logistics of entertaining, too. "A variety of storage options are essential to keep your countertops uncluttered and leave you with plenty of space to chop, prep, mix, and sizzle to dazzle your guests," they urge.
2. Go Green
"We predict natural materials and earthy greens are going to be big, as well as more of a focus on practicality," say Magdol and Oehm. Designer Hannah Miller agrees, citing "bringing nature in" as one of the top trends she expects to dominate this year. "Earthy color palettes, deep olive greens, rich wines, and warm chestnuts tones" will be prevalent, she says.
3. Color Outside the Lines
Miller's top trend on the checklist for the year ahead? "Color! Out with the dull grays and whites," she says, challenging homeowners to "be daring and bold with colored cabinetry." While we've seen some leaning toward colorful cabinets over the past few years, she expects to push this look even further with unexpected brights and vibrant new hues. For those who are happy with their cabinetry, Miller suggests "updating backsplashes and tile with more statement colors and patterns, if working with existing cabinets."
4. Rock Steady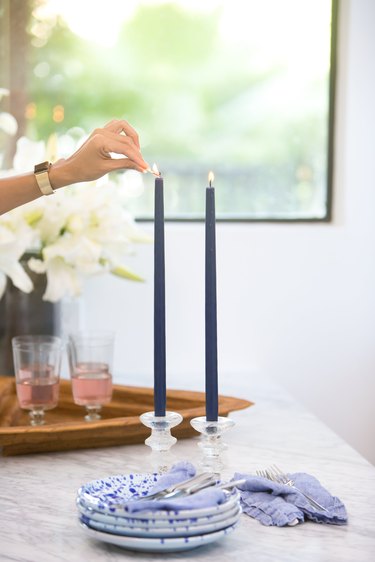 Miller also foreshadows a shift in the types of surfaces we'll see in kitchens this year. She says stone in the kitchen will be "still going strong," but notices homeowners beginning to gravitate toward "imperfect over perfect." (Blame it on last year's wabi-sabi influence.) "By choosing more interesting swirls, cracking, and unique veining, we will see a stylish, yet impactful approach," she says. Personally, we can't wait to see unusual stone textures take center stage this year.
---
Emily Bihl is a freelance writer and sometimes-songwriter who can invariably be found rearranging furniture in a domicile somewhere along the Mississippi River. She lives with her black labrador Selkie and a small army of homemade ceramics, and has not willingly closed a browser tab since 2011.
View Work