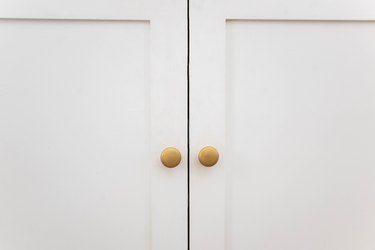 While you always have the option of buying new hardware for your cabinets, it can add up fast. Luckily, painting existing hardware is an affordable alternative to getting a new look for less. Silver, gold, bronze, or brass — whatever finish you're aiming for, if you follow our method, you'll get results that last. We even have a hack that can give your hardware the look of highly coveted raw, unlacquered brass. OK, let's paint!
First things first, let's have a before and after look at our hardware, shall we?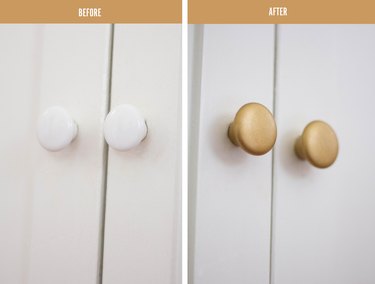 We started off with white ceramic knobs on white cabinetry. Nothing terrible. But definitely not statement-making either. It all just sort of blended together.
Painting the hardware to look like raw brass just warmed everything up, and elevated the entire look of the cabinets, don't you think?