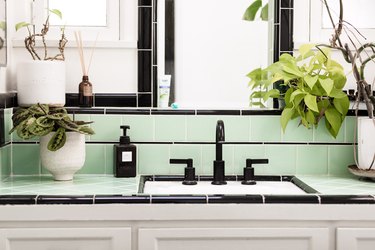 As people who love to peek into other people's homes, we've seen a variety of bathroom countertops over the years. There are plenty of possibilities when it comes to material and look, so it can get a little overwhelming when you first start. If you're looking to do a bathroom remodel, you'll also have to keep your budget in mind. While you may think of using materials like wood, concrete, and marble, these can get pricey.
Here, we're taking a look at some ideas for cheap bathroom countertops and what you need to know before you shop.
Idea #1: Cultured Marble Countertops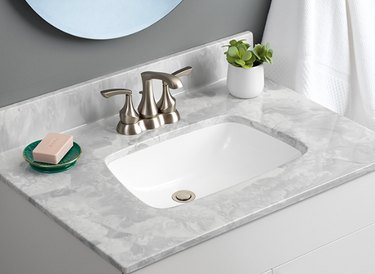 There are plenty of ways to get that all-white bathroom look at a more affordable price tag than, say, marble bathroom countertops. We suggest checking out cultured marble countertops for a budget-friendly yet chic look.
Cultured marble is a man-made material that blends stone particles and resin.
Pros of cultured marble countertops:
The big pro is, of course, the price tag. You can save a lot more if you go for this alternative rather than regular marble. A 31-inch marble vanity top would cost around $731 at retailers like Hayneedle while a 25-inch model in solid white cultured marble costs around $183. A steel gray on white culture marble vanity top measuring 61 inches goes for around $489 at retailers like Lowe's. It's also typically nonporous, which is helpful for high traffic bathrooms. Regular marble can be highly porous, and you've got to be careful not to stain it.
Cons of cultured marble countertops:
Because of its lower price tag, cultured marble might not be as durable as other options out there for bathroom countertops. You can mostly find cultured marble in solid white, with other finishes at a higher price point, so it just depends what you want in terms of style. You might also need to get it refinished occasionally to keep it looking its best.
Idea #2: Laminate Countertops
When you start shopping for cheap bathroom countertop options, you might come across a certain term in the retailers you browse: laminate. You might recognize it from 1950s and 1960s bathrooms, but the material has also made an appearance in modern bathrooms. Here's what you should know about it.
The term laminate refers to layers of a material being fused together. The decorative sheet creates the overall look. It's often used for countertops and backsplashes and can be an affordable alternative to other bathroom countertop materials.
Pros of laminate bathroom countertops:
As far as budget-friendly options go, laminate bathroom countertops are high up on the list. You can find a 48-by-96 inch Formica laminate countertop sheet for around $60 at retailers like Lowe's. There are plenty of style options, from marble to travertine.
Cons of laminate bathroom countertops:
This material slightly limits your decor style options. It's also less durable than other materials that can withstand longer use. Laminate is more prone to scratches and heat damage compared to other options.
Idea #3: Ceramic Tile Countertops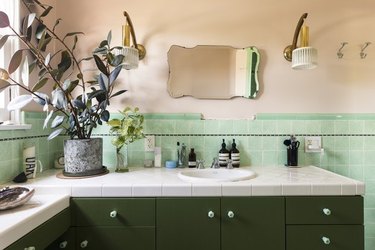 Made with clay (as the name suggests), ceramic tile is glazed or unglazed. You can browse lots of styles at most major retailers.
Pros of ceramic tile countertops:
This is an affordable option if you need to stick to a budget. You can find tile for around 49 cents per square foot (or $9.98 per case) at major retailers like The Home Depot. It's also easier to replace compared to countertops made one of single, large piece. You can also find plenty of designs to match your needs.
Cons of ceramic tile countertops:
Ceramic tiles, of course, are susceptible to getting chipped, so you'll need to be careful to avoid damage. Also be wary of stains and big scratches. You'll also need to reseal them at least once a year to keep your countertop in tip-top shape and free of bacteria.