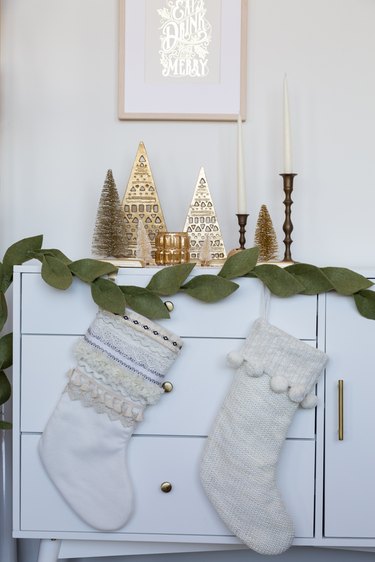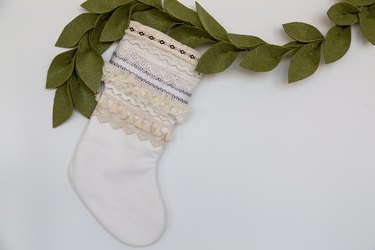 If you love the look of boho in your home, why not show off some bohemian vibes with your holiday decor this year? This stocking is the perfect project.
You just need a plain white or cream stocking as your base, which you can find at any big box craft or fabric store. (Or use this one from Michaels and remove the sequins from the cuff.) Ribbon, trim, and lace can be found at your local fabric store. You can buy spools, or choose from yardage that you can have cut at the counter. For this DIY, we went for cream and white, with little pops of black in some of the ribbon. Look for different textures and shapes to add a variety to the stocking.
Step 1
To begin, lay out your design prior to gluing. Add enough trim and ribbon to cover the cuff of the stocking. Then start adhering the ribbon to the cuff. Cut enough ribbon and trim so that you can wrap it all the way around.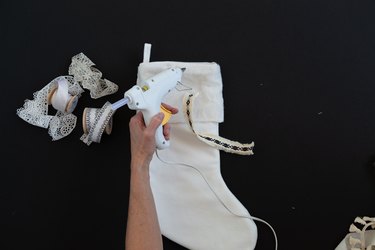 Step 2
Continue adding trim and ribbons to the stocking. Place glue onto the ends and center of trim — you do not need to add hot glue to the entire ribbon as it could show through. We also added some trim and ribbon below the cuff as well.
Step 3
When you've covered about half of the stocking, from the top of the cuff to the middle of the stocking, you're done. It's ready to hang by the chimney (or sideboard or table) with care. It's that easy!