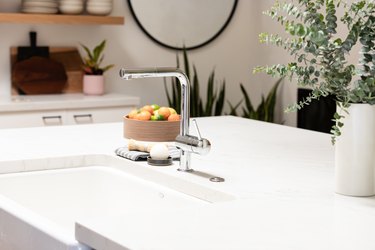 Squeaky is all about the borderline genius hacks and ideas that keep literally every inch of your space pristine.
One of the dirtiest areas of your home may be quite shocking to you: your kitchen counter.
Our kitchen counters are dirty because of all the other things we bring into our homes and inevitably place upon the counter — like grocery bags, lunchboxes, purses, your dog's leash, and sometimes gym bags (admit it!). Just think about it for a moment. All of these items come into contact with other surfaces while out in the world, like the trunks of our cars, public bathrooms, school lunch tables, the grocery store ... and have most likely picked up germs and bacteria. Help! Especially during the COVID-19 outbreak, you need to make sure this space in your home is clean.
Luckily, there are a few things you can do to keep those germs off of your kitchen counters. Below we have a few solutions, including a DIY disinfectant wipe recipe and a smart drop-off zone idea.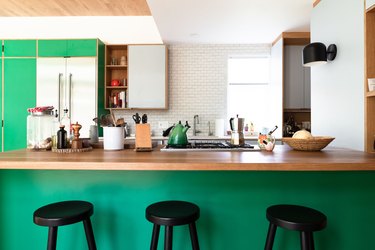 Designate a Drop-Off Zone in Your Kitchen
Add a rubber mat or dish towel to your kitchen counter and designate it as the drop-off zone for items like lunch boxes, water bottles, cups, snack containers, and anything else. This will keep the germs that are on these items off of your counter tops. Once a week, you can wash the mat or towel and reuse it. This tip will help keep your kitchen counters from becoming too cluttered as well. (And make it cute! We love these Coyuchi waffle kitchen towels or this lovely IKEA find. If you want to go the mat route, we suggest putting out a couple of these foldable silicone dish drainers from Yamazaki Home. Who cares that it's meant to be dish drainer? It works as a drop-off zone.)
Ideas for Bringing Groceries into Your Home
Grocery bags are a major culprit for bringing in unwanted germs. They sit on grocery carts and conveyor belts, harbor spills from food items, and also come in contact with the floor or trunk of your car. You can limit the transfer of germs from grocery bags to your counters and tables by designating an area to drop your bags when you bring them in. Here are a few ideas for grocery drop off areas:
Place a large bath towel on your counter to place your grocery bags on before unloading them. When you are finished, just toss the towel into your washing machine.
Bring a large storage tote into the kitchen before bringing your groceries in, and place the bagged groceries in the tote. Once your are finished, just wipe out the inside of the tote todisinfect it.
Keep several large tote bags in a container in your car, where you can place several grocery bags at a time when bringing in your groceries.IKEA bags work great for this and make for fewer trips back and forth toyour car as well. (Buy an IKEA bag here.)

Make Your Own DIY Disinfectant Wipes
Make your own disinfectant wipes using natural ingredients to wipe items down before placing them on your countertops, or use them to wipe down your countertops daily. These are great for cleaning the outside and inside of lunch boxes, backpacks, and purses. They are also great for cleaning the outside of drink containers, food containers, and bottles. Most importantly, they are safe to use on countertops, kitchen and bathroom faucets, toilets, door handles, and more!
Things You'll Need
2 cups of distilled water

1/4 cup of isopropyl alcohol

1 teaspoon of dish liquid

10 drops of lemon essential oil

10 drops of tea tree essential oil

Quart-size mason jar

Roll of sturdy paper towels
Step 1
Add all the ingredients to the mason jar (except for the paper towels). Place the lid on and shake vigorously.
Step 2
Take the lid off and start tearing off paper towels and adding them to the jar. You can fold them if you like, for easier removal. Continue adding paper towels until the jar is full. Replace the lid. Shake before each use.
Step 3
Remove one disinfectant wipe at a time and wring out a bit before use. Discard after use.