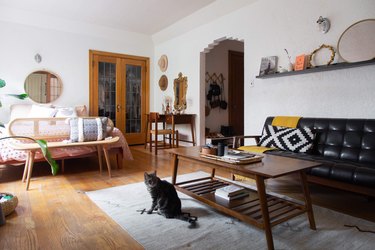 Unfinished hardwood flooring lets homeowners customize their home's appearance and offers flexibility for when design tastes change years down the line. In fact, many of the most natural and timeless hardwood floors start as unfinished hardwood floors, which are carefully crafted and customized by experts.
While installing and finishing solid hardwood flooring is a more time-consuming and labor-intensive process than buying prefinished flooring, the end result is often admired for decades to come. A thorough understanding of all that goes into buying and installing unfinished wood can help you pick the option that's right for you and your home.
Factors to Consider About Unfinished Hardwood Flooring
One of the biggest decisions homeowners make when it comes to wood flooring is whether to go with prefinished or unfinished flooring. Prefinished means that all the final touches — the sanding, staining and protective topcoat — have been done in a factory. Unfinished flooring, on the other hand, requires that labor to be done on-site. There are many factors to consider when determining if unfinished solid hardwood flooring is best for your home.
First, unfinished wood requires patience. The job of sanding unfinished hardwood floors can take days. Then, you may need to wait additional days or even weeks to walk on the new floors while you wait for the polyurethane coats to dry. During this time, you must also take care to not allow dust or other particles to enter the room, as those could settle into the floor before it is finished. This could be a big inconvenience if you're redoing an important room in your home. However, if you're starting from scratch and don't plan on moving into the house immediately anyway, this may not be as big of a factor in your decision.
However, because the sanding and staining is all done on-site, you can work with a skilled professional to customize the exact color, finish and feel that you want your floors to have. You can think of yourself as an artist with a blank slate to create a flooring masterpiece. This is also useful if you need to repair small sections of older hardwood floors and want to maintain a uniform look throughout the room.
All wood floors are prone to some scratching, but prefinished wood typically is more resistant to scratches from everyday hazards, like gritty shoe soles or pet nails, than site-finished flooring. The finish used on prefinished flooring is harder and more durable than most site-applied finishes. If you have pets that could quickly put scratches in wood flooring, you may want to consider going with a prefinished option or only using unfinished in a room unavailable to the animals.
For the price of the wood alone, prefinished floors cost more up front. However, labor costs for unfinished wood add up quickly, especially when you opt for sanding, which isn't typically included in the installation fees but is required to create a seamless floor. For this reason, unfinished floors often end up costing slightly more than prefinished. An experienced DIYer could cut those costs, but this is generally not a good job for amateurs.
Solid Hardwood Flooring vs. Engineered
Once you've decided on unfinished wood, you'll have to choose between solid and engineered hardwood floors. A plank of unfinished solid hardwood flooring is made from one solid piece of lumber and is ideal for homes in dry climates or where design customization is a main priority.
Unfinished engineered flooring is a popular option for houses where humidity is a concern. It is also better for installation over certain types of subfloors, including concrete, or if homeowners prefer a wider plank. Typically made from a composite of woods, engineered flooring is also more accessible for a DIY job and offers more affordable installation costs, since some brands come partially presanded or with a primer finish.
Choosing Flooring Width
Width is another important consideration when deciding on the best unfinished hardwood flooring for your home. You may not realize how much the width of wood factors into the overall look and feel of a floor or know exactly what you want, so it may help to look at photos of several different widths before you make your choice.
Standard widths for thinner strips are anywhere from 1 1/2 to 2 1/4 inches, while standard wider planks are typically anywhere from 4 to 10 inches. However, the beauty of unfinished flooring is the ability to customize, so you can get creative with width to design a one-of-a-kind floor.
Some people prefer thin strips that convey clean and consistent lines, especially if you're hoping to exude an upscale feel. Others prefer wider, long-length planks to minimize the appearance of seams. And wide planks in random, multiple widths give off a more rustic vibe. Random wide cuts are often more eco-friendly, as they sometimes come from reclaimed wood and were designed to minimize tree and lumber waste.
Types of Wood
Another advantage to unfinished hardwood flooring is that it's available in many species of wood. Choosing the one that's right for you will depend on personal preference, availability and budget.
In North America, the most common hardwood flooring types are red oak and white oak, thanks to their availability, price point, appearance and durability. Other popular options are hickory, ash, walnut, maple, mahogany and cherry. Woods like tigerwood, heart pine, cypress and Brazilian walnut are beloved for their rich coloring and durability but come at a much higher price point.
Durability of Your Floors
Aside from color and appearance, the best question to ask yourself when deciding on a wood species is, "How durable does this wood need to be?" Hardwood flooring is measured with a Janka rating, which measures how the wood holds up to impact. (Find the whole chart at the National Wood Flooring Association website.) The higher the Janka rating, the harder the floor.
Generally, anything with a rating higher than 1,000 is considered durable, though that doesn't mean you can't get a wood with a rating in the hundreds. You'll just have to treat it with more care and be mindful about the heavy objects you place on it.
Woods at the lower end of the Janka rating, like American cherry and mahogany, will be more prone to dents, especially if you plan on having lots of heavy furniture in the room. If you love the look of cherry or mahogany but want a more durable wood, look into other species, like Brazilian cherry, Brazilian walnut and Santos mahogany, all of which rate higher on the Janka scale than their domestic counterparts. Solid oak flooring ratings sit right in the middle, which is another reason they're a popular choice.
Take your time thinking about these decisions so you can invest in floors that you'll love to look at and live on for years to come.
---
Rachelle Dragani is a freelance writer based in Brooklyn with extensive experience covering the lifestyle space. Her work on topics including smart home technology, pest control, living green, budget home repair and helpful household tips have appeared in publications including Bob Vila, Esquire, Popular Mechanics, Gizmodo and Yahoo.
View Work