We may earn compensation through affiliate links in this story. Learn more about our affiliate and product review process
here
.
It's not too often that you discover your new favorite decor brand in a movie theater. But that's how, a few years ago, I first found MINNA, the Hudson, New York-based textiles company. There had been one pillow on display at the makeshift gift shop in Hollywood's Arclight Theater, and it stood out, not just because of, you know, the weirdness of seeing a pillow in a cinema lobby, but also because its dreamy abstract design rendered in colorful shag was just so catching.
When I tell MINNA founder Sara Berks this story, she's not surprised. When she was approached to be a part of the micro-store, she thought it was unconventional, but great placement: "I was like, in the movie theater? I guess that makes sense." After that, she'd have friends texting her pictures of her pillows on the way to the concession stand. "It was just so fun to have different entry points that people come to you from," she says.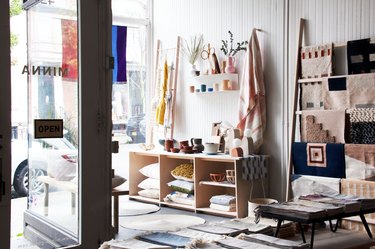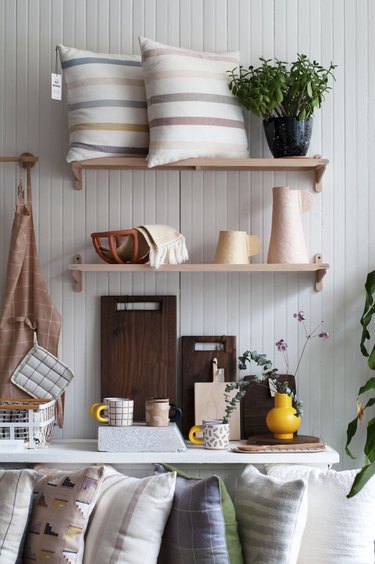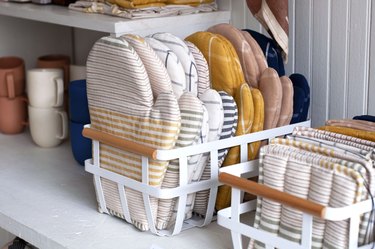 That type of creative thinking might be why MINNA has been such a success in such a short amount of time. You know an indie decor brand is going to be "a thing" when you slowly start seeing it everywhere without even realizing it, and that's how you might describe MINNA's rise to prominence: subtly creeping into your local boutiques, your friends' homes, your Insta feed … the movie theater.
Berks launched MINNA in 2013, and opened her brick-and-mortar in Hudson in 2016. Her designs are easily recognizable for their distinctive color combos (always a bit subdued) and graphic patterns, which sometimes feel very modern (Berks cites Bauhaus as an inspiration), but can also bring in motifs that are more abstract or inspired by traditional weavings.
At her core, Berks has always been an artistic soul. "I also am an artist, so I draw a lot, and I paint a lot. Everything I do is always super, super pattern-based," she affirms. But after studying graphic design, she found herself on a corporate path that ultimately didn't feel right. "After college, I worked at different agencies doing branding and web design for pretty large-scale clients," she explains. "My last job was at a really big agency. I was working on things for HBO, to Google, to Tom's Shoes … I just really burnt out and needed a break. During that time, I taught myself how to weave."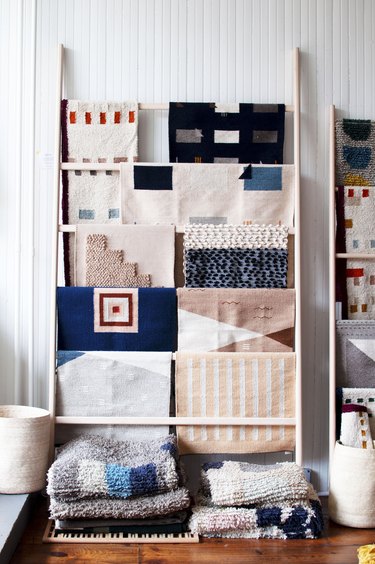 She was mostly making one-of-a-kind wall hangings when weaving became her side hustle, and after showing her work at craft fairs, Berks started getting larger commissions. Among her first clients were One Kings Lane and Need Supply, which was clearly a huge deal. Berks also cites Instagram as a major catalyst for MINNA; her designs seemed to instantly find a community on the social platform.
Realizing she'd need to scale and knowing that she wanted to explore making different products, Berks began to research production in South America. "I took a [rug weaving] workshop that I found in Oaxaca. While I was there, I asked the woman who helped arrange it to help introduce me to family-run collaboratives," Berks says.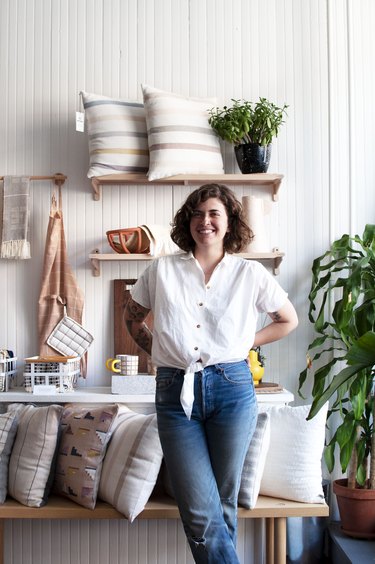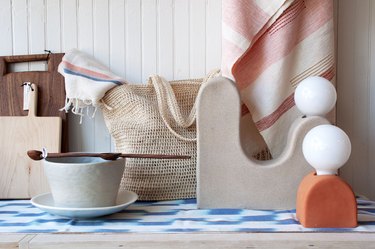 Producing via artisans has its limitations, but for Berks, that can also be an intriguing part of the process: "I try to get a deep understanding of the technique, how it works, what the actual tradition and intention is, what the traditional patterns are, and then design for a more contemporary audience," she explains. "Within that, every technique has constraints. Everything is handmade, start to finish … looms only go to a certain width, and certain looms can only accommodate certain patterns." Color is an issue as well, and certain dyes aren't available everywhere. "We source materials in the country that we're working. It's often limited by what we can get," Berks adds.
What might really set MINNA apart is its well-intentioned mission, which also has a focus on championing queer voices. "We are a queer woman owned and majority queer or female operated business," the MINNA website proudly declares, "which informs our approach to just about everything we do."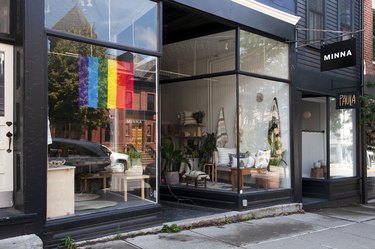 At the Hudson store and online, you'll also find MINNA carrying friend-of-the-family type brands and other independent makers with similar outlooks. There are cards by the female-run stationery company, Anne and Kate; lamps by Bandito, a handmade lighting studio based in Mexico; shampoo by Sisters, which gives back to organizations that support women's health; and Virgina Sin's artistic, handmade ceramics.
Despite a certain ubiquitousness among a subsect of design lovers, MINNA very much remains a small-scale, artisan business with just six full-time employees. It allows Berks to be extra thoughtful and selective about the decisions she makes, and how she wants to expand her business. Just last month, MINNA announced its latest new product: bedding. "It's all artisan-made, handmade," says Berks. But like her approach to MINNA, she's keeping a low-key approach to it: "We won't be doing sheets or anything like that, because the looms don't reach it, and honestly, I think that would be just really too much."