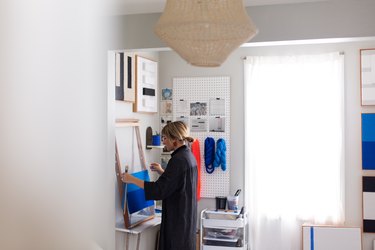 Who: Shelly Sazdanoff
Where: Portland, Oregon
Style: Handmade minimalism
Mixed-media fiber artist Shelly Sazdanoff is rediscovering color — and it is somewhat of an unsettling surprise for her. "It's hilarious how scary it feels now," she posted on Instagram. In the piece in question — The Art of Extraction, a 21-inch-by-21-inch piece made of handwoven fiber and concrete set in a Douglas fir frame — the rich blues are vibrant pops of color and energy, especially in Sazdanoff's otherwise minimal studio space in Portland, Oregon.
The studio itself is in the home she shares with her husband, Jeremiah, director of museum experience at the Portland Children's Museum, and their two young children.
"For me, at this stage of life, working from home is essential," she says. "I'm a woman of many hats, balancing my role as a mother and an artist. Adding an off-site studio would make things more complicated."
Luckily, the intricate work she specializes in doesn't take up much room.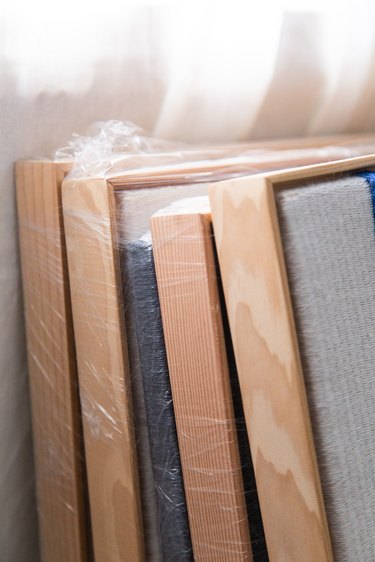 The petite bungalow the Sazdanoffs moved into four years ago dates back to 1910 — plus the studio, an add-on. "It naturally has a separated feel with the support beams," she says. She built a desk directly into the wall to lean her loom against while weaving, ripped out the high-pile carpet, and painted the wood floors white. "It brightens everything and makes the room feel more open," she explains. "And let's face it — when you live in Portland, you need to take light where you can get it."
Elsewhere in the house, the vibe is similarly minimal and modern, with curated accents and a more or less restrained palette. "Everything is neutral and white with pops of blue throughout the space, like the Ashley Hardy ribbed vase and Matisse print," she says. And the rest is a mix of vintage, modern, and retail stores like Target or Urban Outfitters. (The midcentury dresser, a Craigslist find.)
Of her mixed-media pieces, Sazadanoff says, "The work is minimal but, upon closer view, there is a world full of subtleties, a conversation happening between materials." There's a similar refrain happening throughout the house — subtle contrast, minimalism accented with texture, thoughtfully considered color and underlying warmth. The goal is cohesion, on many levels.
"Home and work life can flow together," says Sazdanoff. "You can have good design and a space that is put together and also young children who feel like they can live in it instead of not touch it. You can design a space that speaks to who you are."
"Not everything in my home is local or made by an artist, but I really try to be intentional about investing in other artists' work," says Sazdanoff. The limited edition print in the hallway is by Annie Swiderski. Sazdanoff picked it up at one of her favorite galleries in Portland, Nationale.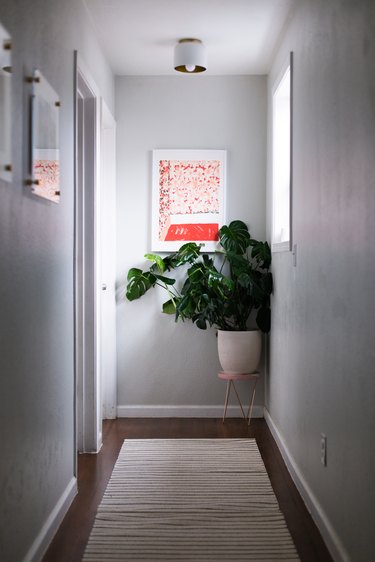 Sazdanoff also collects pottery by local artists, such as Ashley Hardy, Mica DeMarquez, Alexandria Cummings, and Martina Thornhill. She typically buys direct from the artists or finds them at Mantel or Palace, two local stores.
Books make a statement as well. "We've been collecting books on our favorite artists for almost 15 years, so you can usually find at least one or two in each room of our home," she says.
Plants are key decorative elements, as well as Jeremiah's record collection (he's also a DJ).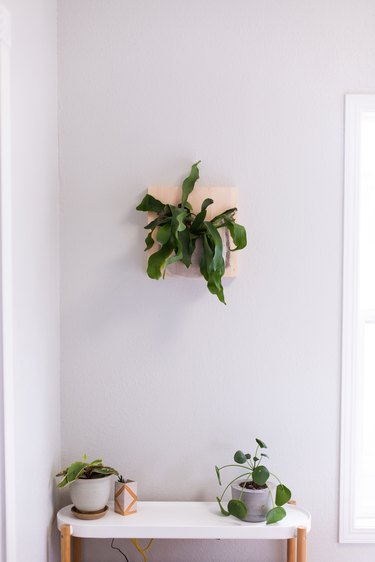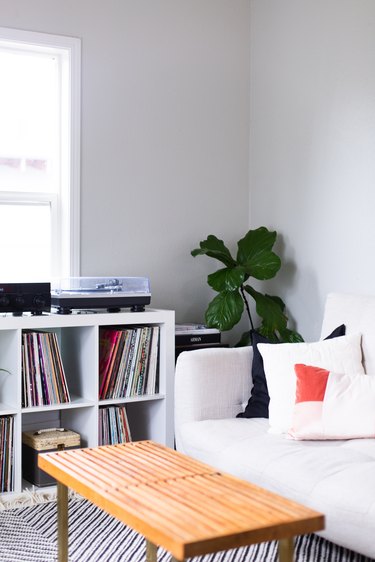 "I think what I am most after when designing either my studio or home is a space that is well thought out and curated but also inviting," says Sazdanoff. "I never want it to look as though it's not lived in."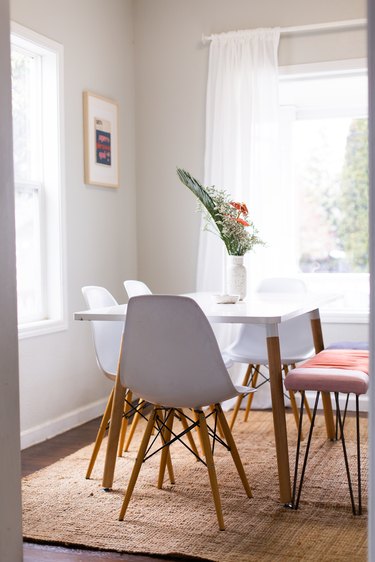 Sazdanoff made the tricolored bench at the dining table.
"I also really love the idea of my children growing up around my work and space instead of keeping the two separate," she says. "I feel, in its own way, it teaches them passion, creativity, and dedication to a practice. It has also taught me how to blend the two in a healthy way."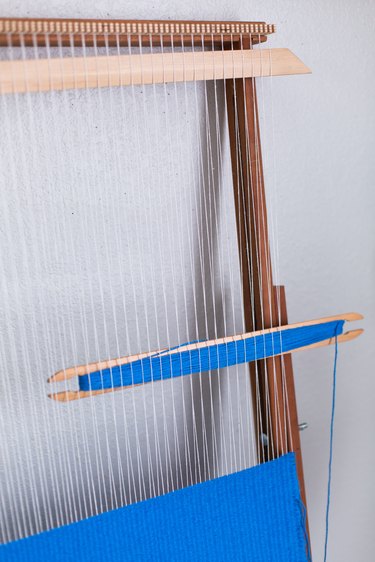 "I have experimented a lot in my medium since I first began," she adds. "Not until about two years ago did I really begin to go deeper and find myself and my voice as an artist. I feel like all the work was necessary to bring me where I am, to improve in my craft and to create the work I am creating today."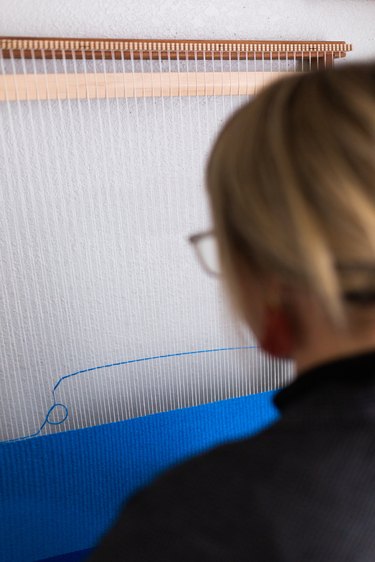 "My work is deeply personal. It's slow to make and takes patience and time. Each piece is carefully thought about, sketched, measured, woven, and then stretched and painted. Since it is minimal, it's all about attention to detail. It is very much a part of who I am and I am very much a part of it."